Zero
Background information
Feature films
The Nightmare Before Christmas
Television programs
Video games
Kingdom Hearts
Kingdom Hearts: Chain of Memories
Kingdom Hearts II
Kingdom Hearts 358/2 Days
The Nightmare Before Christmas: Oogie's Revenge
Park attractions
Portrayed by
Portrayed by
Animators
Voice
Frank Welker
Performance model
Designer
Tim Burton
Inspiration
Rudolph the Red-Nosed Reindeer
Honors and awards
Character information
Full name
Other names
Personality
Fun, kind, scary
Appearance
Slender dog-like ghost, body made of white sheet, Basset hound-like ears, black eye sockets, long and thin snout, upper jaw curls at the tip, very small glowing pumpkin nose, faded brown collar
Birthday
Occupation
Jack's "dog"
Affiliations
Good
Goal
To help Jack and friends out with any situation
Home
Halloween Town
Relatives
Pets
Allies
His boss Jack Skellington, Sally, Dr. Finkelstein, The Mayor, Lock, Shock, and Barrel, Santa Claus, Sora, Donald, Goofy, Roxas
Minions
Enemies
Oogie Boogie, Lock, Shock, and Barrel (formerly), Heartless
Likes
Jack, fetching
Dislikes
Jack being sad or literally dead
Powers and abilities
His flight
His glowing nose
His metamorphosis
His barks
Weapons
Fate
Morphs into a Christmas star while his boss and Sally hug and kiss on Pumpkin Mountain
Quote
"Woof!"
[Source]
Zero is a character and the tritagonist from Tim Burton's 1993 stop-motion Disney film The Nightmare Before Christmas.
Personality
Designs
Zero is a ghostly dog that appears to be made of a white sheet, much like a stereotypical ghost. Like Pluto, he has basset hound-esque floppy ears. His "eyes" are just empty holes in the sheet. Zero's snout is very long and thin, and his upper jaw curls upward at the tip. His nose is a small glowing jack-o-lantern like Rudolph's red nose, and his collar is a faded brown color.
Appearances
Zero first appeared in the 1993 movie The Nightmare Before Christmas. In the movie, Jack finds the door to Christmas Town while he is taking Zero for a walk. Later, when Jack wants to take off through the thick fog to deliver presents, Zero has to light the way. At the end of the movie, Jack and Sally kiss each other as Zero looks at them. He then flies into the air and transforms into a star.
The Nightmare Before Christmas: Oogie's Revenge
Zero can be called upon by Jack when the enemy is hard to defeat. Zero's only known powers are growling and biting.
Video games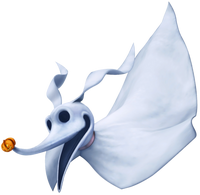 Zero is a relatively minor character in the Kingdom Hearts series, usually only seen in the background of Kingdom Hearts and Kingdom Hearts II. He is given a slightly larger role in Kingdom Hearts 358/2 Days, where he can sense Heartless and uses this ability to help Jack Skellington and Roxas.
Disney Parks
Zero appears in the Haunted Mansion Holiday attraction in the Endless Hallway and the Graveyard scene with Jack. He also appears in Disneyland's Halloween Screams fireworks show, floating over the castle in a similar fashion to Tinker Bell.
Trivia
Zero's "Corpse Bride" counterpart is Victor's skeleton dog: Scraps.
Even to this very day, it is currently unknown who provides Zero's vocal effects in the original film, though many believe it was done by Bill Farmer, Frank Welker, or sound effects from a computer, though there's no evidence support these beliefs.
Zero makes an appearance in one of Bleedman's webcomic: Grim Tales Down Below. Zero becomes good friends with Grim Jr.
Gallery