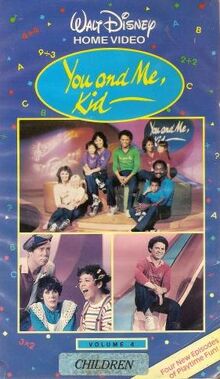 You And Me, Kid
was a television series on The
Disney Channel
in
1983
. It was hosted by Sonny Melendrez. It was for parents to educate with their kids (such as exercising, fun projects, singing to their kids some children's songs, make fun stories, and so on..)
The segments includes:
Let's go (Exercise skills)
You and Me, Theater (Creative drama)
Famous and half (Celebrities and their children)
Ssh! (Listening and observation skills)
Mime your own business (Pantomime)
The ran for 130 episodes and only four were released on Walt Disney Home Entertainment.
The theme song is "Just You and Me, Kid" sung by Robin Fredrick.
In 1988, a store with the same name opened up at Walt Disney World Resort that sold children apparel, toys, and games.