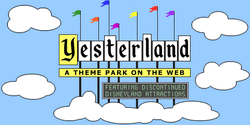 Yesterland is a fansite focusing mainly on defunct Disneyland attractions and shows, though features smaller sections on the extinct attractions of Disney's California Adventure and the Walt Disney World Resort, as well as articles on the Disney Vacation Club, Walt Disney Imagineering, and "Side Trips from Yesterland."
The site was launched in 1995 by Werner Weiss, and updates to the site are usually featured on the front page of MiceAge.
External links
Ad blocker interference detected!
Wikia is a free-to-use site that makes money from advertising. We have a modified experience for viewers using ad blockers

Wikia is not accessible if you've made further modifications. Remove the custom ad blocker rule(s) and the page will load as expected.