The relationships of Wreck-It Ralph.
Friends and Allies
"Turns out, I don't need a medal to tell me I'm a good guy. Because if that little kid likes me, how bad can I be?"
―Ralph, about Vanellope (last line in the film)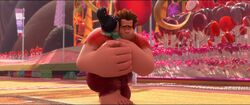 When Ralph and Vanellope first met, they didn't exactly see eye to eye. Ralph saw Vanellope as nothing more than a rotten thief after she stole his medal, and Vanellope thought Ralph was nothing more than an oafish buffoon. As they spent more time together however, they realized that they're not as different as they thought. Like Ralph, Vanellope was tired of being mistreated by the other members of her game, and wanted to be accepted. This connection gave the two a far better understanding of one another. It also explains why Vanellope was so crushed when Ralph (as a result of King Candy's manipulation) was against the idea of her racing. After years of being rejected, the one person who showed her kindness, was apparently against her, though Ralph's actions were meant to keep Vanellope safe. However, after Ralph realizes King Candy lied to him about what would happen if Vanellope did race and he learned from Sour Bill that everything would be fixed if she crossed the finish line in an official race, he didn't hesitate to come to her rescue, and the two reconciled.
Vanellope also changed Ralph for the better as she helped him understand what it really means to be a hero, as he decided to sacrifice himself to save her when King Candy and the Cy-Bugs took over Sugar Rush. Their relationship became similar to that of a big brother and little sister and grew into a very heartwarming one at that. Vanellope even offered Ralph a room in her castle after she turned out to be the rightful ruler of Sugar Rush, though he humbly denied as their friendship alone was enough to keep him happy.
"I'd tried to be a good guy. But I'm not! I'm just a bad guy. I need your help! There's a little girl whose only hope is this kart. Please, Felix, fix it! And I promise, I will never try to be good again!"
―Ralph to Felix
Unlike the other members of the game, Felix never mistreated Ralph being that he was far too nice of a person. Although Ralph was obviously jealous of the handy man, he never displayed any hatred towards him, but just jealousy. Ralph's opening narration showed that he did not give Felix much credit for being a real "fixer", since Felix apparently inherited his magic hammer from his father and therefore, his job was not very difficult and without the hammer Felix could never fix the damage Ralph does regularly, especially if Felix were a real carpenter. Much like with Vanellope, Ralph and Felix's dynamic mirrors that of siblings. Felix poses as the more successful brother, while Ralph is the ignored brother who plays a role similar to an underdog. However, Felix did not entirely understand Ralph's feelings, as he was questioned by Calhoun as to the motives of Ralph's actions, to which Felix merely states he did not understand why he left, only remembering Ralph talked about cake and medals.
It was not until Felix ventured out of his game that he grew to understand Ralph's feelings as he faced rejection by Calhoun, who rebuffed his affections for her, and was treated as a criminal, as Sour Bill locked him up in the fungeon. When the two reunited, Felix refused to fix Vanellope's kart, saying he didn't have to do "boo" for him because he was so crossed with Ralph for making him travel throughout the arcade to find him and was faced with rejection and being treated as a criminal throughout the journey. However, Ralph then told him that that was the reason he left his game as he had felt those same feelings every day for the past thirty years and wanted to get a medal to prove he could be a hero, and promised Felix he would never try to be good again as he came to understand that he couldn't change who he was. The two reconciled and began to see each other as equals. 
At the end of the film, however, both Ralph and Felix apparently became the best of friends, with Felix even referring to Ralph as brother and even inviting him to serve as best man at Felix and Calhoun's wedding.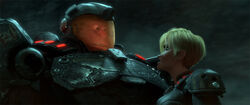 Because the movie mainly focuses on Ralph's relationship with Vanellope and his contrasting role to Fix-it Felix as the bad guy in comparison to Felix, who was a good guy, and his desire to be seen as a hero, Ralph's relationship with Calhoun is never greatly expanded on, especially since the two had few interactions with each other throughout the film. During the film, however, Calhoun was shown to be greatly annoyed by Ralph. When Ralph impersonated Markowski and entered Hero's Duty, she was greatly annoyed by his behavior as he frequently ran around, screaming and running away from the bugs, along with interfering with the first player shooter, which she reprimanded him for. She later punched Ralph when she met him again in the Sugar Rush game, saying "This game is going down and it is all your fault!" showing that she had not forgiven him for his reckless behavior and wanted to remind Ralph what his actions would cost the Sugar Rush game. However, after Ralph decided to sacrifice himself to save the game and amend for his actions, she smiled as the game was restored and appeared to have forgiven Ralph and developed some respect for him. This is confirmed as she and Felix had invited him to serve as best man at their wedding, and they continually go with him on his game-jumping adventures after hours.
Enemies
"I'm not interested anything you have to say!"
―Ralph to King Candy, angrily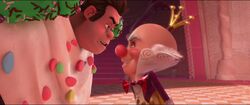 Upon meeting each other, Ralph and King Candy were immediately enemies. When King Candy learned that Ralph wasn't just game jumping in Sugar Rush, he feared Ralph was "going Turbo" and was planning on taking over Sugar Rush. Ralph grew a disliking for Candy after the king denied Ralph the chance to earn back his medal that Vanellope deposited to get into the Random Roster Race. As the film goes on, the two characters' hatred for one another grew stronger and stronger, to the point where Ralph wanted to mindlessly pummel the king. Ralph was surprised to learn that Candy was really Turbo and wanted to stop him from hindering Vanellope. In return, Turbo wanted to murder Ralph after the former became a Cy-Bug as a twisted form of gratitude for the power. Though their characters are different in almost every aspect of the word, their stories are very similar. Both Ralph and King Candy's, then known as Turbo, game jumping quests to change their lives brought misfortune to the arcade, though Ralph's ambitions were driven out of wanting a better life and decided to right the wrongs he committed. Meanwhile, Turbo only wanted the excessive attention another game was gaining, ruining the game out of pure spite, and instead of trying to make things better, he took over another game and ruined the life of a character that was completely undeserving of the misery she gained due to his villainy.
All-in-all, despite their short-lived rivalry due to Turbo's death, Turbo's actions and opposition of Ralph has made him Ralph's most hated and greatest enemy, effectively becoming Ralph's archenemy.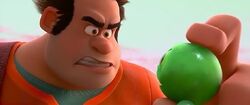 When Ralph was brought to King Candy's palace after being arrested, it was plain to see Sour Bill wasn't too fond of the bad-guy. However, Ralph's feelings for the sour ball weren't expressed until later on in the film, where he tortured Sour Bill into revealing King Candy for the villain he was. It was obvious Ralph had a harsh disliking for Bill, most likely because of Bill's association with Candy. Evidence of this was shown during Bill's interrogation scene, where Ralph was completely fine with threatening to devour the sour ball, should he not cooperate and reveal Candy's crimes.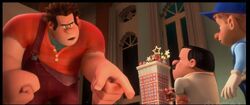 Of all the Nicelanders, Gene was without a doubt the most antagonistic towards Ralph. Unlike the rest of the Nicelanders, who feared Ralph and tried to simply ignore him, Gene openly despised Ralph because of the former's role as the bad guy, showing no fear when he ostracized the villain at the 30th anniversary party. It was also Gene's rudeness that lead Ralph to game-jumping into Hero's Duty to win a medal, something that is forbidden.
Following the events of the film, Gene and the other Nicelanders seem to have a far better understanding and appreciation for Ralph's pivotal role in the game. In the spin-off comic, The Wrecking Party, Gene even showed a newfound liking towards Ralph's wrecking.