Worthless
Comment

1
19,076pages on
this wiki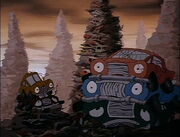 A song and the last song of the movie
The Brave Little Toaster
sung by the junkyard cars, singing their life stories before the soloists die. Due to that, it is frequently considered as one of the darkest, if not the darkest song, in a Disney film, alongside
Hellfire
from
The Hunchback of Notre Dame
.
In spite of its sad and depressing lyrics, it's somewhat fast-paced, giving it a feeling of anticipation for the cars as they boldly face their deaths, and sets the scene for the heroes' final tribulation.
Lyrics
I can't take this kind of pressure,
I must confess one more dusty road
Would be just a road too long
Worthless...
I just can't, I just can't,
I just can't seem to get started
Don't have the heart to live in the fast lane,
All that has passed and gone
Worthless!
And there ain't nothing you can do about it
Worthless!
Pardon me while I panic!
Worthless! Worthless! Worthless!
I come from KC Missouri,
And I got my kicks out on Route 66
Ev'ry truck stop from Butte to MO
Motown to Old Alabama
From Texarkana and east of Savannah
From Tampa to old Kokomo
Worthless...
I once ran the Indy 500
I must confess I'm impressed how I did
And I wonder how close that I came
Now I get a sinking sensation,
I was the top of the line, out of sight, out of mind
So much for fortune and fame
Once took a Texan to a wedding
Once took a Texan to a wedding
He kept forgetting, his loneliness letting
His thoughts turn to home and returned
I took a man to a graveyard
I beg your pardon, it's quite hard enough
Just living with the stuff I have learned
Worthless...
Once drove a surfer to sunset,
There were bikinis and buns, there were weenies
Fellini just couldn't forget
Pico, lets go up to Zuma
Pico, lets go up to Zuma
From Zuma to Yuma the rumor was I had
A hand in the lay of the land
Get up and go hit the highway!
I worked on a reservation,
Who would believe they would love me and leave
On a bus back to old Santa Fe?
Once in an Indian nation,
I took the kids on the skids where the Hopi
Was happy 'til I heard 'em say...
"You're worthless!"
Trivia
Originally, this song was going to be cut out because according to the producer, one of the cars was shown committing suicide by driving towards the crusher. However, for unknown reasons, the song remained in the movie.
Gallery