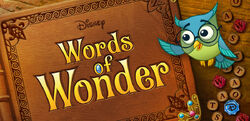 Words of Wonder is a word search game on Facebook, and on the app store.
About
The game is takes place in a storybook. The storybook has over twenty chapters and contains over three-hundred levels of play. The main protagonist is Watson the Owl and ,much akin to Chrona, he guides the player through trying to restore a kingdom shrouded in darkness. The first few levels will have Watson the Owl guide you through game play and as new gaming features become available, Watson will appear to walk you through the new features.
At the top of the storybook map you have the gear cog that will drop down the settings menu (sound/music on or off, help section, exit the map) with your energy and gold levels displayed next to the settings cog. Energy is used to access each level and is replenished as you successfully complete a level, with time or you can convert gold into energy. Gold is used to unlock additional maps, buy boosts and re-charge your energy levels. You begin the game with 25 gold bars and can add more to your inventory through in-app purchases.
As long as you complete the levels on the first try, your energy level shouldn't be an issue in that you seem to earn back the energy you use to play the level, when you complete it. However, if you fail a level then you will see your energy levels drop. If you don't want to fool with in-app purchases, energy levels will increase over time.
Gameplay
You are presented with a playing board filled with lettered tiles. You are tasked with created words by tracing adjacent letters (vertically, horizontally or diagonally). Words have to be at least three letters long and as you create a word, the tiles are removed from the playing board, with new letters falling from the top of the board.
Each level has a goal to reach in a set number of moves or before time runs out. The goals range from collecting a number of letter tiles, removing all the tiles stained with ink, dropping items off the bottom of the game board and more. Boosts become available that will aid you in your quest such as adding bonus moves or shuffle the tiles around.
The game screen for Words of Wonder has your statistics displayed across the top of the screen that includes your move count or timer, a progress bar charting your objective, a display of any boosts available. Your score is displayed at the bottom of the screen and as you create words, a banner will appear spelling the word out as you connect the letters. The game board rest center screen and comes in a variety of shapes and styles.
Once you've reached your goal, Watson will appear to launch a Word Burst, which will award you bonus points (much like the Free Fall portion of Disney's match-three games). Each level has a target score to reach and the closer you get, the more stars you are awarded. Levels can be re-played to better your score and increase your cumulative star count.
Gallery
Ad blocker interference detected!
Wikia is a free-to-use site that makes money from advertising. We have a modified experience for viewers using ad blockers

Wikia is not accessible if you've made further modifications. Remove the custom ad blocker rule(s) and the page will load as expected.