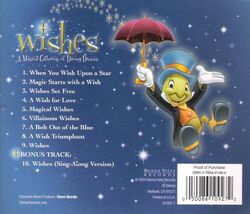 Wishes: A Magical Gathering of Disney Dreams is a 2004 Disney Theme Park album based on the Disney fireworks show, Wishes.
Details
Audio CD (2004)
Label: Disney Theme Park Merchandise
ASIN: B000MTV5DA
Track listings
Magic Starts with a Wish
Wishes Set Free
A Wish for Love
Magical Wishes
Villainous Wishes
A Bolt Out of the Blue
A Wish Triumphant
Wishes (Sing-Along Version) (bonus track)
Editorial Reviews
"Wishes", Walt Disney's Magic Kingdom Fireworks Display opened on October 9, 2003 and has been thrilling guests nightly ever since. Bursting with color, sound and emotion, "Wishes" is the biggest fireworks spectacular ever presented at the Walt Disney World Magic Kingdom. This CD is dedicated to "Wishes", and continues to bring joy and happiness to thousands on a daily basis.
Ad blocker interference detected!
Wikia is a free-to-use site that makes money from advertising. We have a modified experience for viewers using ad blockers

Wikia is not accessible if you've made further modifications. Remove the custom ad blocker rule(s) and the page will load as expected.