Winter
is a student film made by
Pete Docter
, the director of
Monsters, Inc.
and
Up
. The film was made at CalArts and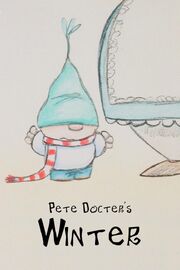 it was completed in 1988. The short can be viewed on the 
Pixar Short Films Collection, Volume 2
 DVD.
Plot
The short film starts with a boy looking out of the window. He's really excited because it's snowing. After desperate begging to go outside, the boy's mother agrees. But before the mother could let her son play outside, the mother needs to give him some warmth. She puts three sweaters on the boy, and when she's about to put a scarf on, the boy attempts to run, but he gets caught.
Later, the mother places his son outside of the house. The boy attempts to walk into the snow, but due to the amount of sweaters his mother put on him, he is unable to move his arm and legs. After vigirous struggling, the boy suddenly falls over. Now he has his head stuck in the snow.
The camera zooms out, showing a bunch of kids suffering the same fate as the boy.
Trivia
According to Pete Docter, the inspiration for this short film came from one of his two daughters. When Docter was living in Minnesota, one of his two daughters wanted to play in the snow. Docter's parents would dress her up so much, she couldn't move her arms and legs. Docter told that story to some people at CalArts, and one of those people said "That'll make a good short."
The part in which the boy can't move his body is similar to a scene in the 1983 movie A Christmas Story, in which one of kids has so many sweaters, he can't put his arms down, and when he falls, he has trouble getting back up.