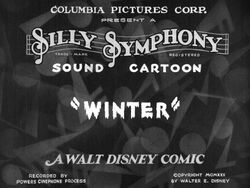 Winter is a black-and-white Silly Symphony that debuted on November 5, 1930. It was the final '4 Seasons' Silly Symphony short.
Synopsis
The animals frolic in the new fallen snow and skate on an icy lake to tunes which include "Jingle Bells" and "The Skater's Waltz."
Home video releases
DVD
Gallery
Ad blocker interference detected!
Wikia is a free-to-use site that makes money from advertising. We have a modified experience for viewers using ad blockers

Wikia is not accessible if you've made further modifications. Remove the custom ad blocker rule(s) and the page will load as expected.