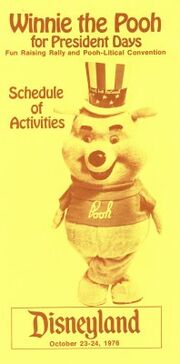 Those looking for sweeping change in the White House were hilariously heartened as
Disneyland
celebrated the Winnie the Pooh for President campaign in election years
1972
and
1976
. Running under the slogans "Pooh in '72" in 1972 and "Winnie's a Honey of a Candidate" in 1976,
Pooh
was treated to a ticker-tape parade on Main Street, U.S.A. and appeared in a special stage show with campaign manager
Eeyore
and press secretary
Tigger
. His campaign promises may not have included a
heffalump
in every garage and hunny in every pot, but, if elected, President Pooh would certainly have put a smile on every face.
Gallery