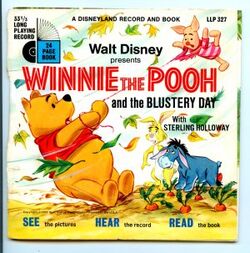 Winnie the Pooh and the Blustery Day is the Disney Read-Along album of LLP-327. It was based on the 1968 featurette of the same name.
The original 1968 edition was entirely narrated by Robie Lester. The 1978 edition featured a fuller voice cast, including Hal Smith as Winnie the Pooh. Both of these editions included the songs "A Rather Blustery Day" (performed by Sterling Holloway as Pooh) and "Rain, Rain, Rain Came Down, Down, Down".
A new edition was produced in 1989, reusing the same illustrations (with the exception of the cover artwork), and with some of the wording changed. It was narrated by Laurie Main. The voice cast included Jim Cummings as Pooh, John Fiedler as Piglet, Ed Gilbert as Tigger, Peter Cullen as Eeyore, Tim Hoskins as Christopher Robin, Michael Gough as Gopher and Hal Smith as Owl. It featured one song at the end of the story: "Hip-Hip-Poohray".
Releases
Book and Vinyl
Book and Cassette
1978 - 17DC
1989 - 524B
1990 - No number