"Wings of Destiny" is the fourth episode of the second season of Penn Zero: Part-Time Hero. It premiered on July 12, 2017.
Synopsis
The trio find themselves in a fairy world in the midst of a wrestling tournament which Penn and Sashi must win to keep the forest out of evil hands. However, things are complicated due to the two having an argument and unwilling to work together, forcing Boone to try and get them to mend their friendship.
Plot
Trivia
WWWFF Fairymania is resambles to WWE Wrestlemania.
v - e - d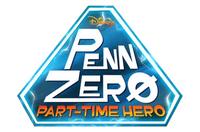 Songs
Penn Zero: Part-Time Hero (Opening Theme) • We're Breaking Out of Here for Christmas • Time to Kill • We Can Catch the Milkman • What is a Princess? • Pigoilet • Victory is Mine at Last • The Truth of It Is • Moonlight Bright • This is a Real Song • Boone Reads On • Race to the Top • Race to the Top (reprise) • You're a Karaoke King • High in the Sky • Breath In, Breath Out • Bad Weed • Today is the Day • My Name is Penn Zero • Save the Worlds • In the Splishy Splashy Sea • Come Aboard with Me • Training to Win • Wings of Destiny Song • Sometimes We Need a Friend • Build and Backup Now • The Time Table • Everybody Chillax • Why Won't You Turn Green • It's the Best Friend Song • It's the Best Friend Make Up Song • Grinkon's Song
Locations
Middleburg • Middleburg Central High • The Odyssey • Fish Stick on a Stick • North Pole • Knight World • Superhero World • Arabian World • Plush Toy World • Clown World • Dinosaur Cowboy World • Cereal World • Old English World • Giant Monster World • Zombie World • Space World • Ocean World • Color World • Musical Fairy Tale World • Caveman Spy World • Future Barbarian World • Ultrahyperball World • Demon World • Alien World • Galaxy World • Temple World • Dragon World • Gothic Mystery World • Plant World • Animal Barbarian World • Toy World • Outer Space Court World • Robot World • Pirate World • Fairymania World • Steampunk World • Ball World • Ghost World • Rock, Paper, Scissor World • Beast World • Anime World • Sitcom World • Nothingness • Most Dangerous World Imaginable • Least Dangerous World Imaginable
Objects
Multi-Universe Hologram Uplink • Multi-Universe Transprojector • Pigoilet • The QPC Unit • Vortex Tops • Specs