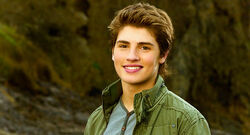 Arthur William "Will" Wagner
is a main deuteragonists character of
Disney Channel's Original Movie
Avalon High
.
History
Will (as most characters call him) as a Border Collie named Cavail who corresponds to King Arthur's dog Cavil. His sailboat, the Pride Winn, corresponds to Arthur's Prydwyn.
Personality
In the movie he is the reincarnation of Sir Bedivere, but when he ask Ellie, or as she is called Allie in the film, she replies, "My knight in shinning armor."
Ad blocker interference detected!
Wikia is a free-to-use site that makes money from advertising. We have a modified experience for viewers using ad blockers

Wikia is not accessible if you've made further modifications. Remove the custom ad blocker rule(s) and the page will load as expected.