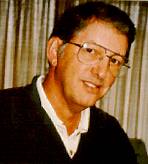 William Van Horn (born February 15, 1939) has been a Disney comics artist and writer since 1988. He draws mostly Donald Duck and Uncle Scrooge stories, and he has also written and/or illustrated stories based on the animated series DuckTales. Some of these stories featured Launchpad McQuack as the main character.
Prior to his association with Disney, Van Horn drew and wrote a black and white comic book called Nervous Rex for Blackthorne Publishing. Focusing on the misadventures of a small, non-violent tyrannosaurus, the series ran for ten issues, from 1985 to 1987. Afterward, also for Blackthorne, he drew and wrote a short-lived superhero parody comic called "Possibleman," which ran for two issues.
In the first years of his career as a Disney Comics artist William often worked with John Lustig on the stories. In 1994 he did the art for Carl Barks' final script, Horsing around with History which was released in Uncle Scrooge Adventures #33.
William's son Noel Van Horn is also a Disney comics artist, focusing on Mickey Mouse-stories.
William Van Horn created the following characters for the Duck universe:
Baron Itzy Bitzy - Scrooge's whistling pet flea.
Rumpus McFowl - a lazy tramp who turns out to be Scrooge's half-brother.
Woimly Filcher - an enemy of Donald Duck and his nephews.
Van Horn's Nervous Rex stories were notably featured in Disney Adventures from 1993 to 1995.
External links
| | |
| --- | --- |
| | This page uses content from the English Wikipedia. The article or pieces of the original article was at William Van Horn. The list of authors can be seen in the page history. As with Disney Wiki, the text of Wikipedia is available under the GNU Free Documentation License. |