William Shakespeare was an English poet and playwright, widely regarded as the greatest writer in the English language and the world's preeminent dramatist. He is often called England's national poet and the "Bard of Avon". Although he never existed during the time of movies or television, his name and works were used in some Disney movies and characters.
Shakespeare's works have been adapted several times by Disney: Hamlet was adapted by Disney in The Lion King, whilst Romeo and Juliet has been adapted as The Lion King II: Simba's Pride and Gnomeo & Juliet. A Midsummer Night's Dream was adapted into Strange Magic, and various elements of his plays were added into Gargoyles.
Disney films based on his plays
Appearances in Disney productions
Short films
In the Donald Duck cartoon, Trick or Treat, Hazel the Witch says one of the famous lines in Shakespeare's Macbeth while making the witch's brew: "Double, bubble, toil and trouble, fire burn and cauldron bubble."
Animated features
In Oliver & Company, Francis is seen watching the grainy TV and a theatrical production of Macbeth, 1 of Shakespeare's most famous plays and which he apparently knows by heart. The part shown was from Act V, Scene 5 of Macbeth.  
In Gnomeo & Juliet, the characters were based on his most famous play, Romeo and Juliet. Also, a statue of Shakespeare appears saying that the story is similar to his own, and thinks that it will have the same ending.
In Beauty and the Beast, during "The Mob Song", Gaston briefly quotes Shakespeare by saying "Screw your courage in the sticking place!" In addition, the Special Edition of the same film, during the song "Human Again", had Beast and Belle reading Romeo and Juliet.
In Tarzan, a portrait of Shakespeare is on one of the many slides Tarzan views on the projector during "Strangers Like Me".
In Aladdin, Iago was named after the villain, Iago in his play, Othello, as evidenced by mention in the TV series revealing that he has a twin brother called Othello. In the Aladdin episode; "The Return of Malcho", he was spoofed by Genie. In "Smells Like Trouble", Genie transformed into the 3 witches from MacBeth while making a witch's brew "Double, Bubble, Toil and Trouble, Fire burn and cauldron bubble". In "SandSwitch", Genie (as a gondolier under Sadira's spell) mentioned having once "set up Anthony and Cleopatra... Shame it didn't work out." when Sadira suggests to marry Aladdin (under her spell too) one night. In "Night of the Living Mud", Genie was seen turning into Julius Caesar himself one night. In "Snowman is an Island", Genie was seen turning into William Shakespeare again and Hamlet from Hamlet. In the third Aladdin movie, Caesar and Cleopatra were seen walking through the crowd while bringing gifts for Aladdin and Jasmine's wedding.
At the end of Toy Story 3, the toys were performing Shakespeare's Romeo and Juliet, and they suggested either doing Cats or Shakespeare's Hamlet.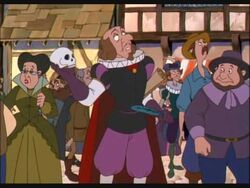 In Pocahontas II, Shakespeare made a small cameo appearance, where he is seen singing with the townspeople and after holding a skull, he is seen writing something, probably the plot for his next masterpiece, Hamlet. However, in real life, Shakespeare died two months before Pocahontas came to England for the first time.
Animated television shows
Live-action features
The Muppets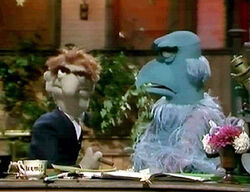 Gallery
William Shakespeare
Shakespearean roles
Gargoyles Characters inspired by Shakespeare