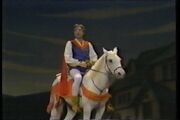 Will I Ever See Her Again?
is a song for
The Prince
that first debuted in
Snow White and the Seven Dwarfs: The Musical
at Radio City. In the song the Prince wonders and bemoans if he will ever see his fair
Snow White
again.
Lyrics
Has anyone seen her,
The girl who was here but yesterday?
Have you seen her,
Do you know if she's gone away?

She left without a whisper,
A word, a touch, a sigh,
I knew that very moment,
That she had to be mine,

I saw cloudless starry skies in her eyes,
Her cheeks were rose as after red,
She was her for only a moment,
Will I ever see her again?

I saw moonbeams dancing in her smile,
Her lips were berries in the lane,
She was only here for a moment,
Will I ever see her again?

Delicate charms, slender arms,
Quiet nameless grace,
Soft raven hair, brows so fair,
Picture that face,
Framed in white wedding lace,

But I lost the very girl I could love,
She left, and I never asked her name,
She was here for only a moment,
Will I ever see her again?
Ad blocker interference detected!
Wikia is a free-to-use site that makes money from advertising. We have a modified experience for viewers using ad blockers

Wikia is not accessible if you've made further modifications. Remove the custom ad blocker rule(s) and the page will load as expected.