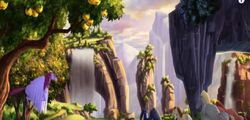 Wildwing Valley is a beautiful valley that appears in the Sofia the First episode "The Secret Library". It is homed to all sorts of enchanted animals like flying horses. It's also where many magical creatures who want to be wild go to live. Mazzimo, Minimus' brother, has always wanted to live here.
Background
Wildwing Valley is a magically hidden valley where enchanted beasts run wild and free. It is found in the Glittering Gorge. It is hidden behind a magical wall which is just an illusion. All new arrivals are greeted by Marchand. Mazzimo has always wanted to live here, and with help from his brother and Sofia, he was finally able to arrive and get the life he had always wanted. Mazzimo leaves the valley every time the Flying Starwings put on a show to see his parents' performances.
Ad blocker interference detected!
Wikia is a free-to-use site that makes money from advertising. We have a modified experience for viewers using ad blockers

Wikia is not accessible if you've made further modifications. Remove the custom ad blocker rule(s) and the page will load as expected.