This article is about the ship from the Pirates of the Caribbean ride. For films' ship, see the Black Pearl.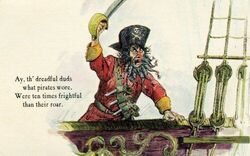 The
Wicked Wench
is the attacking pirate ship in
Pirates of the Caribbean
. The ship is attacking a town in the Spanish Main believed to be loaded with gold. This is later revealed at the end of the ride. The ship also has a mechanism that when riders boats pass by and a cannon is shot from the ship, people can feel the aftershock.
As part of the 2006 update, the villain of Pirates of the Caribbean: The Curse of the Black Pearl, Captain Barbossa, was added as the captain of the Wicked Wench, replacing the original, unnamed character (but often nicknamed Blackbeard.)
Gallery