Ad blocker interference detected!
Wikia is a free-to-use site that makes money from advertising. We have a modified experience for viewers using ad blockers

Wikia is not accessible if you've made further modifications. Remove the custom ad blocker rule(s) and the page will load as expected.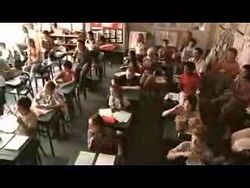 "Why Can't We Be Friends?" is a song from Bridge to Terabithia. Leslie and Jess' class sing this during music class. It seems to sum up Leslie and Jess' relationship.
The song is the class's cover of the Smash Mouth song of the same name. It was also heard at the end of the Lizzie McGuire episode "Pool Party".
Lyrics
Why can't we be friends
Why can't we be friends
Why can't we be friends
Why can't we be friends
I seen ya around for a long long time
I really remember you when you drank my wine
Why can't we be friends
Why can't we be friends
Why can't we be friends
Why can't we be friends
I'd seen ya walkin' down in Chinatown
I called ya but you could not look around
Why can't we be friends
Why can't we be friends
Why can't we be friends
Why can't we be friends
I pay my money to the welfare line
I see ya standing in it every time
Why can't we be friends
Why can't we be friends
Why can't we be friends
Why can't we be friends
The color of your skin don't matter to me
As long as we can live in harmony
Why can't we be friends
Why can't we be friends
Why can't we be friends
Why can't we be friends
I'd kinda' like to be the president
So I could show you how your money's spent
Why can't we be friends
Why can't we be friends
Why can't we be friends
Why can't we be friends
Sometimes I don't speak right
But yet I know what I'm talking about
Why can't we be friends
Why can't we be friends
Why can't we be friends
Why can't we be friends
I know you're working for the CIA
They wouldn't have you in the mafia
Why can't we be friends
Why can't we be friends
Why can't we be friends
Why can't we be friends
Why can't we be friends
Why can't we be friends
Why can't we be friends
Why can't we be friends
Why can't we be friends
Why can't we be friends
Why can't we be friends
Why can't we be friends
Why can't we be friends
Why can't we be friends
Why can't we be friends
Why can't we be friends
[fade]