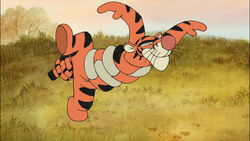 The Whoopty-Dooper-Loopty-Looper-Alley-Ooper bounce is a signature bounce done by Tigger in his own movie and was practiced by Roo, who mispronounces the name until he gets it correct, which is not until much later when he uses it to save Tigger from certain death.
Details
This powerful bounce requires its user to twist up his/her tail really tight, wind up all of their springs, and then let go of the pent up energy to be propellered into the air. If the user collides with any objects or walls during the bounce that are solid, they will ricochet off of them like a pinball bouncing off the walls at a breakneck pace. If there are no obstacles, then the user can fly for a short time due to their legs moving functioning like that of spinning helicopter blades. If the user happens to be as masterful as Tigger with the bounce, then he/she maybe able to control his/her flight path as well as where and what the user ricochets off of (Roo, despite having failed the bounce three occasions within the movie, had done this too, but he was a quick learner and a natural bouncer). According to Tigger, this bounce is not recommended for those within the novice stages of bouncing. The user of the bounce can also, that is if they hit large objects hard enough, the bounce could move even large boulders that would require normally heavy machinery to shove aside.
The first time the WDLLAOB is, which is the acronym for the bounce, used is on the event that Eeyore's home is destroyed by a boulder after slowly getting away from it. Despite Tigger's good intentions in removing the boulder so the others may bounce with him, he is reprimanded by Rabbit for being underfoot and destroying his invention, the Rock Remover.
Later, when Roo had mentioned the prospect of finding more of his species and at Tigger's house, Tigger mentions his trademark bounce to Roo after saying he used it to remove the boulder, and Roo has trouble pronouncing the bounce. When Roo asks Tigger to mentor him on the bounce, Tigger is very reluctant as he claims it is a very strong bounce (this is unquestionably true) and only for professional bouncers. Roo then says he's a very good bouncer, and Tigger tries to refuse him due to his height. Roo tries to say that he could learn it, who is tongue-tied in pronunciation, and Tigger tells him he can't learn the bounce if Roo cannot even say it right, so Tigger begins to tutor Roo on its pronunciation and mechanics (Whoop-de-Dooper Bounce).
At the end of the lesson and showing Roo how the bounce is performed, Roo is more than eager to try it for himself, but Tigger stops him to let Roo know about safety rules and regulations (such as never doing it in darkness, after eating, nearby an open flame, etc.). Roo then tightly winds up his body, scrunches his tail, and lets it all go in the midst of Tigger's lecture, and he is sent flying from the hammock, record player, lantern line, ends up rolling on a spherical cushion, being flung off by a spring seat, and ending to crashing within the closet. This result happened because Roo did not wind up properly and held back long enough.
The second time Roo tries it again is at his home, but at a more sloppy performance at Tigger's place, he doesn't do too excellent of a job and ends up flying into Kanga's arms. The sloppiness could be because the interior of Roo's room does not have as much open space like Tigger's home or the outside.
The third time was to prevent Tigger's disappointment after he, Pooh and the gang (sans Rabbit, who was getting ready for Winter at the time) wrote Tigger a letter from his "family" (with Owl's counsel, of course). When Roo performed it for a third time, his performance was the same as the first time he tried it, with it being a little better. However, it ruined Roo's disguise and foiled the plan to make Tigger happy.
The fourth (alone) and last time (with Tigger) Roo tries it to save Tigger from an avalanche, i.e. the avalanche Tigger initiated by shouting "For My. Real. FAMILY!!", Roo does it correctly on both instances. The ability to fly to is shown when Roo bounces off the tree to save Tigger from death, and when both Roo and Tigger escape the ravine and avalanche using a boulder as a platform. While flying, the duo skillfully ricochet off of massive icicles, go through a huge hollowed log before a giant stone can crush them shortly after, and safely landing on the tree, dodging the avalanche's dwindling blitzkrieg immediately after.
v - e - d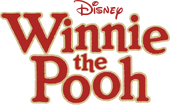 Episodes
The New Adventures of Winnie the Pooh
Season One: "Pooh Oughta Be in Pictures" • "Donkey for a Day/Friend, In Deed" • "There's No Camp Like Home/Balloonatics" • "Find Her, Keep Her" • "The Piglet Who Would Be King" • "Cleanliness is Next to Impossible" • "The Great Honey Pot Robbery" • "Stripes/Monkey See, Monkey Do Better" • "Babysitter Blues" • "How Much is That Rabbit in the Window" • "Gone with the Wind/Nothing But the Tooth" • "Paw and Order" • "Honey for a Bunny/Trap as Trap Can" • "The Masked Offender/Things That Go Piglet in the Night" • "Luck Amok/Magic Earmuffs" • "The Wishing Bear" • "King of the Beasties/The Rats Who Came to Dinner" • "My Hero/Owl Feathers" • "A Very, Very Large Animal/Fish Out of Water" • "Lights Out/Tigger's Shoes" • "The "New" Eeyore/Tigger, Private Ear" • "Party Poohper/The Old Switcheroo"
Season Two: "Me and My Shadow/To Catch a Hiccup" • "Rabbit Marks the Spot/Good-bye, Mr. Pooh" • "Bubble Trouble/Ground Piglet Day" • "All's Well That Ends Wishing Well" • "Un-Valentine's Day" • "No Rabbit's a Fortress/The Monster Frankenpooh" • "Where, Oh Where Has My Piglet Gone?/Up, Up and Awry" • "Eeyore's Tail Tale/Three Little Piglets" • "Prize Piglet/Fast Friends" • "Pooh Moon/Caws and Effect"
Season Three: "Oh, Bottle/Owl in the Family" • "Sham Pooh/Rock-a-Bye Pooh Bear" • "What's the Score, Pooh?/Tigger's Houseguest" • "Rabbit Takes a Holiday/Eeyi Eeyi Eeyore" • "Pooh Skies" • "To Bee or Not to Bee/April Pooh" • "A Knight to Remember" • "Tigger is the Mother of Invention/The Bug Stops Here" • "Easy Come, Easy Gopher/Invasion of the Pooh Snatcher" • "Tigger Got Your Tongue/A Bird in the Hand"
Season Four: "Sorry, Wrong Slusher" • "Grown But Not Forgotten" • "A Pooh Day Afternoon" • "The Good, the Bad, and the Tigger" • "Home is Where the Home is" • "Shovel, Shovel, Toil and Trouble/The Wise Have It" • "Cloud, Cloud Go Away/To Dream the Impossible Scheme" • "Piglet's Poohetry/Owl's Well That Ends Well"
The Book of Pooh
Season One: "Best Wishes, Winnie the Pooh/Double Time" • "Are You Me?/Rabbit's Happy Birthday Party" • "Circumference Equals Pirate 'Arrr' Squared/Pooh's to Do" • "Pigletry/Dinosnores" • "I Could Have Laughed All Night/X Spots the Mark" • "My Gloomy Valentine/Mr. Narrator" • "Vegetable of Contents/A Welcome to Beat the Band With" • "Owl's Book/The Autobiography of Tigger" • "You Can Lead Eeyore to Books/The Spice of Life" • "The Words Are Out/Brain Drain"
Season Two: "Please and Thank-You's/The Rumor Millstone" • "Over the Hill/Tigger's Replacement" • "The Wood Without Pooh/Friends of a Different Stripe" • "Mothers of Invention/Once Upon a Happy Ending" • "Piglet's Perfect Party/A Wood Divided" • "Bravehat/Scaredy Cat" • "Blue Ribbon Bunny/Under the Pig Top" • "The Book of Boo" • "Could it Be Magic?/Diary of a Mad Gardener" • "The Case of the Disappeared Donkey/The Littlest Dinosnore"
Songs
Movie Songs
Winnie the Pooh and the Honey Tree: "Winnie the Pooh" • "Up, Down, Touch the Ground" • "Rumbly in My Tumbly" • "Little Black Rain Cloud" • "Mind Over Matter"
Winnie the Pooh and the Blustery Day: "A Rather Blustery Day" • "The Wonderful Thing About Tiggers" • "Heffalumps and Woozles" • "Rain, Rain, Rain Came Down, Down, Down" • "Hip-Hip-Poohray"
Boo to You Too! Winnie the Pooh: "I Am Not Afraid" • "I Wanna Scare Myself"
Pooh's Grand Adventure: The Search for Christopher Robin: "Forever & Ever" • "Adventure is a Wonderful Thing" • "If It Says So" • "Wherever You Are" • "Everything is Right"
The Many Songs of Winnie the Pooh: "It Really Was a Woozle, Yes it Was"
Sing a Song with Pooh Bear: "Kanga Roo Hop" • "You're the One and Only One" • "Harvest What You Grow" • "My Song"
Winnie the Pooh: A Valentine for You: "Girls are Like Boys" • "When the Love Bug Bites" • "Places in the Heart"
The Tigger Movie: "Someone Like Me" • "Whoop-de-Dooper Bounce" • "Lull-a-Bee" • "Round My Family Tree" • "How to Be a Tigger"
Piglet's Big Movie: "A Mother's Intuition" • "With a Few Good Friends" • "Sing-Ho (For the Life of a Bear)"
Springtime With Roo: "We're Huntin' Eggs Today" • "Sniffly Sniff" • "Easter Day With You" • "The Way It Must Be Done" • "The Grandest Easter of Them All"
Pooh's Heffalump Movie: "The Horribly Hazardous Heffalumps" • "Little Mr. Roo" • "The Name Game" • "Shoulder to Shoulder" • "In the Name of the Hundred Acre Wood/What Do You Do?"
Pooh's Heffalump Halloween Movie: "Trick 'R' Treating With Our Friends" • "Brave Together" • "As Long As I'm Here With You"
Winnie the Pooh: "The Tummy Song" • "A Very Important Thing to Do" • "The Winner Song" • "The Backson Song" • "It's Gonna Be Great" • "Everything is Honey" • "Pooh's Finale"
Television Songs
Welcome to Pooh Corner: "Welcome to Pooh Corner Theme Song" • "Try a Little Something New" • "The Right Side" • "Just Say, 'Yes I Can'" • "You're the Only You" • "I Hum to Myself" • "Please and Thank You" • "Responsible Persons" • "Be a Buddy, Be a Pal" • "Trees" • "A Part of Me" • "Welcome to Pooh Corner Ending Theme"
The New Adventures of Winnie the Pooh: "Pooh Bear" • "'Cause It's Make Believe" • "The Floating Song" • "Nothing's Too Good for a Friend" • "Under the Bed" • "I Don't Have A Name" • "King of the Beasties (song)" • "The End" • "Pirates is What We'll Be" • "Tigger, the Private Ear is Here"
The Book of Pooh: "Everyone Knows He's Winnie the Pooh" • "Your Best Wishes" • "On the Double" • "Who is Me" • "Think, Think, Think" • "A Pirate Has Got to Have Arrr" • "Day in the Life of a Pooh" • "What Piglets Are" • "Dinosnores" • "I Watch for Signs" • "We're Making a Cake" • "A Mystery" • "If I Could Be Big" • "Isn't that Funny?" • "Find the X" • "Everyone Wants a Valentine" • "That's What We Do" • "Keep it Simple" • "Have You Got a Book For Me?" • "Give It a Try" • "The Play's the Thing" • "On Your Way Back Home" • "Nightmare Wranglers" • "We Royaly Request" • "The Sweetest Thing You Are Seeking" • "Carry On" • "The Plumed Protector" • "Flying Up, Up and Away" • "The Bluebird Song" • "Green Thing" • "What's Your Name, River?" • "Thank You, Please" • "When You're a Monster Too" • "Where Do Words Go?" • "Show the Sign" • "Under a Spelling Bee's Spell" • "With Books You Get Carried Away" • "Adventure" • "Mental Altitude" • "I Want to Know Everything Now" • "Happy Tailiversary" • "Get Growin'" • "Tigger's Lullaby" • "A Wood Without Pooh" • "Impossible to Live With" • "Rhyme-a-Bye" • "Friends Until the End" • "Perfect Party" • "If We Were Talkin'" • "Party Animal" • "Bravehat" • "That's All it Was" • "What's a Tigger Without a Bounce?" • "Our Favorite Day" • "Someone New to Meet" • "Every Day is a Song" • "When I Meet a Heffalump" • "Time Stands Still" • "The Who, What, When, Where, Why" • "24 Hours to Save the Day" • "Gardener of the Year" • "The Hundred Acre Circus" • "Into Outer Space" • "Blissful Bossa Nova" • "My Hero\If You Don't Have Friends" • "Talking Tomato" • "Flying" • "I Want To Be Scary" • "Nothin' Much Scares Me" • "The Hundred Acre Halloween" • "Just Ring Your Bell" • "Our Perfect Map of the Wood" • "Broken Friendships" • "Do the Roo" • "The Rabbit Tango" • "The Honey Dance" • "Piglet Ballet" • "Call Me Buck-a-Roo" • "It's Only Magic" • "I Never" • "King of the Heffalumps" • "Pouncing Panther Pledge" • "At Chez Piglet" • "A Perfect Forest" • "That's How You Put on a Show" • "Let it Rain" • "Stripey McSnarl Always Gets His Man" • "The Littlest Dinosnore" • "Nothing Ever Happens" • "Power of the Pencil" • "Too Much Honey" • "Lost in a Book" • "Goodbye for Now"
My Friends Tigger and Pooh: "My Friends Tigger and Pooh Theme Song" • "A Few Simple Rules" • "Bouncin'" • "The Grass is Greenier" • "The Password Song" • "Underneath the Same Sky" • "One Big Happy Family" • "Think, Think, Think" • "The Question Song" • "Floating in a Cloud" • "The Little Things You Do" • "Christmas Comes Tomorrow" • "Time to Go (On a Trek Through the Snow)" • "Snowman Song"
Miscellaneous: "Luv-a-bye"
Ad blocker interference detected!
Wikia is a free-to-use site that makes money from advertising. We have a modified experience for viewers using ad blockers

Wikia is not accessible if you've made further modifications. Remove the custom ad blocker rule(s) and the page will load as expected.