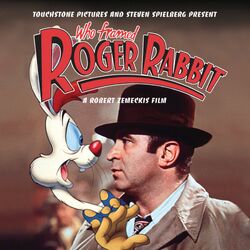 Regular Zemeckis collaborator Alan Silvestri composed the film score, performed by the London Symphony Orchestra (LSO) under the direction of Silvestri. Zemeckis joked that "the British could not keep up with Silvestri's jazz tempo". (Although intended lightly, Silvestri's later scores recorded in Britain - Judge Dredd, The Mummy Returns, Lara Croft Tomb Raider: The Cradle of Life, Captain America: The First Avenger - have used other orchestras.) The performances of the music themes written for Jessica Rabbit were entirely improvised by the LSO. The work of Carl Stalling heavily influenced Silvestri's work on Who Framed Roger Rabbit. The film's soundtrack was originally released in print by Buena Vista Records on June 22, 1988, and subsequently was re-released by Walt Disney Records on audio CD on April 16, 2002. The album is also available for digital download at the iTunes Store.
Tracks
Maroon Logo
Maroon Cartoon
Valiant & Valiant
The Weasels
Hungarian Rhapsody (Dueling Pianos)
Judge Doom
No Justice for Toons
The Merry-Go-Round Broke Down (Roger's Song)
Jessica's Theme
Toontown
Eddie's Theme
The Gag Factory
The Will
Smile, Darn Ya, Smile!/That's All Folks
End Title (Who Framed Roger Rabbit)
| | |
| --- | --- |
| | This page uses content from the English Wikipedia. The article or pieces of the original article was at Who Framed Roger Rabbit (soundtrack). The list of authors can be seen in the page history. As with Disney Wiki, the text of Wikipedia is available under the GNU Free Documentation License. |
Ad blocker interference detected!
Wikia is a free-to-use site that makes money from advertising. We have a modified experience for viewers using ad blockers

Wikia is not accessible if you've made further modifications. Remove the custom ad blocker rule(s) and the page will load as expected.