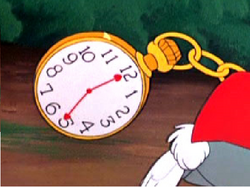 The White Rabbit's Watch was a pocket watch that was owned by the White Rabbit. It was kept in the Rabbit's possession at all times.
When the Rabbit rushes through the tea party, the watch is taken from him by the Mad Hatter, who deems the watch as being two days slow, and proceeds to take it apart and fill it with such things as butter and jam.
As a result, the watch goes mad and begins to lay waste to the tea table. The
March Hare
then smashes the watch with a mallet and destroys it completely, much to the Rabbit's dismay.
Ad blocker interference detected!
Wikia is a free-to-use site that makes money from advertising. We have a modified experience for viewers using ad blockers

Wikia is not accessible if you've made further modifications. Remove the custom ad blocker rule(s) and the page will load as expected.