"Where Dragons Dare" is the twenty-seventh episode of the first season of Penn Zero: Part-Time Hero. It premiered on July 20, 2015.
Synopsis
Penn must overcome his jealousy of popular fellow cadet Blaze to complete his mission and finish at the top of his class at Dragon Flight School.
Trivia
The title is a spoof of the World War II film Where Eagles Dare.
v - e - d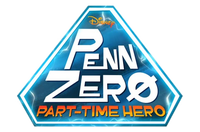 Songs
Penn Zero: Part-Time Hero (Opening Theme) | We're Breaking Out of Here for Christmas | Time to Kill | We Can Catch the Milkman | What is a Princess? | Pigoilet | Victory is Mine at Last | The Truth of It Is | Moonlight Bright | This is a Real Song | Boone Reads On | Race to the Top | Race to the Top (reprise) | You're a Karaoke King | High in the Sky | Breath In, Breath Out | Bad Weed | Today is the Day | My Name is Penn Zero | Save the Worlds
Locations
Middleburg | Middleburg Central High | The Odyssey | Fish Stick on a Stick | Knight World | North Pole | Superhero World | Arabian World | Plush Toy World | Chuckle City | Big Butte | Space World | Ocean World | Musical Fairy Tale World | Caveman Spy World | Alien World | Dragon Flight School | Plantywood | Most Dangerous World Imaginable | Least Dangerous World Imaginable
Objects
Multi-Universe Hologram Uplink | Multi-Universe Transprojector | Pigoilet | The QPC Unit | Vortex Tops | Specs