Ad blocker interference detected!
Wikia is a free-to-use site that makes money from advertising. We have a modified experience for viewers using ad blockers

Wikia is not accessible if you've made further modifications. Remove the custom ad blocker rule(s) and the page will load as expected.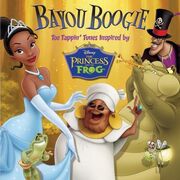 "When You're In Love You'll Understand" is the seventh track on the CD Bayou Boogie. It is written by Aris Archontis, Jeannie Lurie, Chen Neeman. It was performed by Jim Cummings.
Lyrics
They say my light is on but nobody home
I beg to differ, please leave that alone, y'all
It's hard to say where it all began
But when you're in love, you'll understand

Yeah, yeah, you see my love only shines at night
I ask her why but she's the silent type
Still, I know that she hears my song
It's clear the way she blinks along

When you're in love, you'll understand
Long ago, in a swampy land
There was a bug with a simple plan
To woo a girl though she did not talk

He pledged devotion, all for what?
When you're in love, you'll understand
When you're in love, you do magnificent things
Dream about what the future gon' bring

Take a chance, even though it might sting
Hope she'll fly to you on delicate wings
And she will say, "Mais oui"
At least she will if she's talkin' to me

Lookie here, I know a prince runnin' low on cash
He made a deal, was too good to last
Met a girl who could help with this
Can you believe she gave that frog a kiss?

When you're in love, you'll under
When you're in love, you'll under
When you're in love, you'll understand

You will one day, mon ami
I mean, you might could