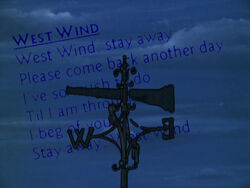 "
West Wind
" is a deleted song from
Mary Poppins
. It was a short ballad to be sung by Mary. The song was later retitled "Mon Amour Perdu" and used in the later Disney film,
Big Red
.
Lyrics
West Wind, stay away
Please come back another day
I've so much to do
Till I am through
I beg of you
Stay away, West wind
Ad blocker interference detected!
Wikia is a free-to-use site that makes money from advertising. We have a modified experience for viewers using ad blockers

Wikia is not accessible if you've made further modifications. Remove the custom ad blocker rule(s) and the page will load as expected.