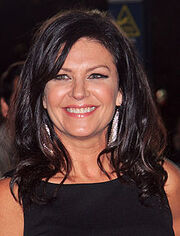 Wendy Jane Crewson (born May 9, 1956) is a Canadian actress and producer.
For Disney, she played Laura Miller in the The Santa Clause trilogy, Ma am Rachel Martin in Bicentennial Man, Eve McClaren in Eight Below, Dr. Leslie Abbott in the 1991 Touchstone Pictures film The Doctor, First Lady Grace Marshall in the 1997 Columbia Pictures/Touchstone Pictures film Air Force One, Maggie Steech in the ABC TV show The Beast and Helen Crowley in nine episodes of the ABC TV show Revenge.
Ad blocker interference detected!
Wikia is a free-to-use site that makes money from advertising. We have a modified experience for viewers using ad blockers

Wikia is not accessible if you've made further modifications. Remove the custom ad blocker rule(s) and the page will load as expected.