Welcome to Pooh Corner
Comments

2
25,628pages on
this wiki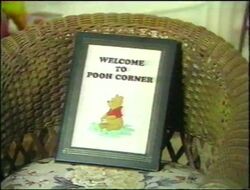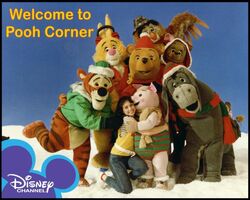 Welcome to Pooh Corner was a live-action/puppet television series airing on Disney Channel, featuring the characters from the Winnie the Pooh universe portrayed by actors in human-sized puppet suits, except Roo, who was usually a traditional puppet.
Each show began with an introduction sequence with Laurie Main speaking to the audience. He would relate what he was talking about to an event that occurred in the Hundred Acre Wood, the home of the Pooh characters, and then he would proceed to read from a book entitled Welcome to Pooh Corner. He would then narrate the episode acted out by the characters. The action was filmed before a blue screen, rather than using traditional sets.
Since the show was designed for the Disney Channel before it began airing commercials, there were no breaks for commercials. As a result, the show lasted a full thirty minutes. The main story ran about twenty minutes followed by two shorter segments. The first segment was a music video featuring one of ten songs, used over and over throughout the show's run. These songs were written by the Academy Award winning Sherman Brothers who had provided the majority of the Winnie the Pooh music over the years. The Sherman Brothers also wrote the show's theme song, using the music from the original Winnie the Pooh theme song from The Many Adventures of Winnie the Pooh.
The last segment of the show was a presentational arts and crafts demonstration. One of the cast members would speak to the narrator, looking directly into the camera, while they showed the viewers at home how to make something. In addition to normal episodes, several holiday episodes were also produced, along with a special Too Smart for Strangers (1985), where Pooh and his friends explain to people what to do when they meet someone they don't know.
Dumbo's Circus, another Disney Channel live-action/puppet television series, was produced in a similar way, with actors in costumes in front of a blue screen. The show's title derives from the second Winnie the Pooh storybook, The House at Pooh Corner.
Welcome to Pooh Corner began airing in 1983, and was removed from the channel when it began airing commercial breaks in 1997. As a result, the show's VHS releases have become hard to find. There are currently no plans to release Welcome to Pooh Corner on DVD from Walt Disney Home Entertainment.
Cast
Songs
Trivia
External links