We the People was originally intended to be a widescreen 3D film to be planned for the unbuilt Disney's America theme park. It would have had the story of the immigrant experience of Ellis Island being told from the perspective of the Muppets.
Later on, when a turn of the century Manhattan Motor Mania ride was announced for Tokyo DisneySea's American Waterfront theme park area, the concept was being retooled, retaining the Muppets as immigrants motif, but it was ultimately shelved and replaced by The Tower of Terror.
See also
External links
v - e - d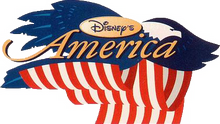 Civil War Fort
The Monitor • The Merrimac
Ad blocker interference detected!
Wikia is a free-to-use site that makes money from advertising. We have a modified experience for viewers using ad blockers

Wikia is not accessible if you've made further modifications. Remove the custom ad blocker rule(s) and the page will load as expected.