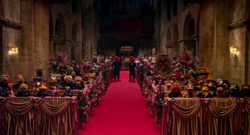 "
We Did It
" is a deleted song which was going to be featured in
Muppets Most Wanted
.
When Miss Piggy got rescued from a ring bomb set by Constantine, the Muppets would sing the song to celebrate their triumph. Each character would get a line until they would see that Miss Piggy was being taken hostage by Constantine when Miss Piggy's line would come. It was entirely written and recorded but never shot.
Ad blocker interference detected!
Wikia is a free-to-use site that makes money from advertising. We have a modified experience for viewers using ad blockers

Wikia is not accessible if you've made further modifications. Remove the custom ad blocker rule(s) and the page will load as expected.