We're Breaking Out of Here for Christmas is a song from Penn Zero: Part-Time Hero. It is sung by Penn Zero, Boone, and Sashi as they devise a plan to escape from the cage they're in. It appears in the episode "North Pole Down".
Lyrics
Boone: We may be stuck here in a Christmas cage,
And gingerbread Rippen's got us trapped backstage,
But there's Christmas magic in the air,
And I have the yuleiest yuletide song to share...

Sashi (speaking): It's working, Boone! Keep singing.

Boone: Oh, we're breaking out of here for Christmas!
This cage has got no sugar plums and dance.
It doesn't have Wi-Fi, or even have a toilet.
It's kinda weird I'm not wearing pants!

Sashi: Yes, we're breaking out of here for Christmas!
I won't be trapped by cages, bars, or walls!
When I'm out, I'll make the bad guys pay!
I'll fight, I'll punch, I'll kick them in the--knees!

Penn: You can bet we're breaking out for Christmas!
It'd be easier if I were in better shape, ho ho!
So kids, you better nestle up, snug in you bed...

Everyone: Cause Christmas will be saved when we escape!
v - e - d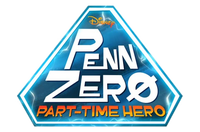 Songs
Penn Zero: Part-Time Hero (Opening Theme) • We're Breaking Out of Here for Christmas • Time to Kill • We Can Catch the Milkman • What is a Princess? • Pigoilet • Victory is Mine at Last • The Truth of It Is • Moonlight Bright • This is a Real Song • Boone Reads On • Race to the Top • Race to the Top (reprise) • You're a Karaoke King • High in the Sky • Breath In, Breath Out • Bad Weed • Today is the Day • My Name is Penn Zero • Save the Worlds
Locations
Middleburg • Middleburg Central High • The Odyssey • Fish Stick on a Stick • Knight World • North Pole • Superhero World • Arabian World • Plush Toy World • Chuckle City • Big Butte • Space World • Ocean World • Musical Fairy Tale World • Caveman Spy World • Alien World • Dragon Flight School • Plantywood • Most Dangerous World Imaginable • Least Dangerous World Imaginable
Objects
Multi-Universe Hologram Uplink • Multi-Universe Transprojector • Pigoilet • The QPC Unit • Vortex Tops • Specs
Ad blocker interference detected!
Wikia is a free-to-use site that makes money from advertising. We have a modified experience for viewers using ad blockers

Wikia is not accessible if you've made further modifications. Remove the custom ad blocker rule(s) and the page will load as expected.