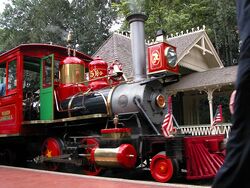 Ward Kimball
is
steam locomotive
#5
on the
Disneyland Railroad
at
Disneyland
in
Anaheim
,
California
.
Kimball
is an old
2-4-4
engine or an American type steam locomotive built by the
Baldwin Locomotive Works
in
1902
, and went into service at Disneyland on June 25,
2005
.
It was named in memory of the late Ward Kimball, an animator for Walt Disney Animation Studios from 1934 to 1972. He was one of Walt Disney's Nine Old Men. The headlight of the locomotive features a gold leaf silhouette of one of Kimball's most famous creations, Jiminy Cricket.
Pre-Disneyland history
This engine was originally built by Baldwin in 1902 for the Laurel Valley Plantation in Louisiana. This engine was later used at the Cedar Point amusement park in Sandusky, Ohio, where it was known as the Maud L. It was received by Disneyland in a trade in 1999 and was restored by Boschan Boiler and Restorations in Carson, California, in 2004.
The Ward Kimball is the only engine of the Disneyland Railroad not to be named in honor of an Atchison, Topeka, and Santa Fe Railway executive.
Trivia
These types of engines were used most common on American railroads during the 1800s and 1830s until 1928.