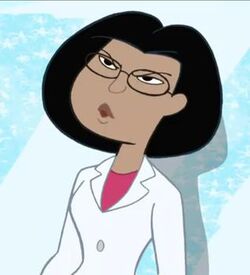 Dr. Wanda Wong is a minor character on the television show Kim Possible. She is voiced by Amy Hill.
History
She is Chairman of the Board of the Middleton Space Center, which is located in Middleton. She was rescued from Dr. Drakken and Shego, and their Truth Ray, by Kim Possible and Ron Stoppable, who both got hit by the Truth Ray in the episode, "The Truth Hurts."
Appearance
She is tan with brown eyes, brown glasses, black hair, white lab coat with a pink shirt.
Gallery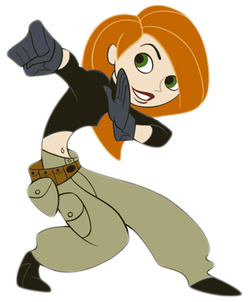 Media: Kim Possible | (Episode list) | Kim Possible: A Sitch in Time | Kim Possible Movie: So the Drama | Kim Possible: What's the Switch? | Kim Possible: Kimmunicator | Kim Possible: Revenge of Monkey Fist | Kim Possible 2: Drakken's Demise | Kim Possible 3: Team Possible | Kim Possible: Global Gemini | Lilo and Stitch: The Series | Phineas and Ferb
Disney Parks: Kim Possible World Showcase Adventure
Characters: Kim Possible | Ron Stoppable | Rufus | Wade | Dr. Ann Possible | Dr. James Possible | Jim and Tim Possible | Mr. Stoppable | Mrs. Stoppable | Hana Stoppable | Monique | Steve Barkin | Bonnie Rockwaller | Ned | Nana Possible | Team Go | Martin Smarty | Artie Smarty | Team Impossible | Betty Director | Cousin Larry | Vivian Francis Porter | Felix Renton | Zita Flores | Master Sensei | Yori | Slim Possible | Joss Possible | Yono | Mego | Hego | Wego Twins | Steel Toe | Pain King | Professor Acari | Connie Rockwaller | Lonnie Rockwaller | Mrs. Rockwaller | Tara | Jessica | Hope | Marcella | Liz | Crystal | Franklin Barkin | Wayne | Shaun | Reuben Stoppable | Vinnie | Big Mike | Mr. McHenry | Junior | Prince Wally | Wanda Wong | Toshimiru | Alan Platt | Akute | Officer Hobble | Amelia | Pop Pop Porter | Kyoko Yoshiko | Nakasumi-San | Timothy North | Middleton High School Cheerleaders | Will Du | Cyrus Bortel | Oh Boyz | Roachie
Villians: Dr. Drakken | Shego | Monkey Fist | Duff Killigan | Señor Senior, Senior | Señor Senior, Junior | Amy Hall | Gil Moss | Camille Leon | Frugal Lucre | Bebe | Adrena Lynn | Gemini | Professor Dementor | Fashionistas | Warmonga | Warhok | Edward Lipsky | Falsetto Jones | Nanny Maim | Hank Perkins | Stone Gorilla | Jackie the Jackal | Aviarius | Fukushima | Knights of Rodegan
Objects: Sadie | Neuro-Compliance Chip | Lotus Blade | Kimmunicator | Silver Cutlass | The Attitudinator | Amulet of the Monkey King | Molecular Muscle Enhancer | Naco | Diablo Sauce | Giant Laser Drill | Pop Pop's Mini Corn Dogs | Pop Pop's Blimp
Locations: Middleton | Middleton High School | Middleton Mall | Bueno Nacho | Smarty Mart | Possible House | Club Banana | Middleton Space Center | Middleton Medical Center | Camp Wannaweep | Yamanouchi Ninja School | Forbidden City Museum | Pickle on a Pike | Middleton Institute of Science and Technology | Middleton Magnetic Institute | Middleton Geological Center | Middleton Motor Lodge | University Of Upperton | Canada | Tokyo | Japan | Port Mystic Cove Haven
Songs: Call Me, Beep Me! | Could it Be | Rappin' Drakken | Naked Mole Rap | Say The Word | Pop Pop's Mini Corn Dogs (song)