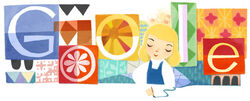 Walt Disney World Resort in 3D was a virtual version of Walt Disney World in Google Earth created in 2008 by Google and Disney.
Trivia
Google also routinely changes the logo on its main page to commemorate special events, and on October 21, 2011, the logo commemorated the 100th birthday of Disney artist Mary Blair.
External links
Ad blocker interference detected!
Wikia is a free-to-use site that makes money from advertising. We have a modified experience for viewers using ad blockers

Wikia is not accessible if you've made further modifications. Remove the custom ad blocker rule(s) and the page will load as expected.