The ninth and last wave of the Walt Disney Treasures series of DVDs was released on November 3, 2009. This wave comprises two releases, each containing one season of the 1957-1959 Zorro TV series. Note that these episodes were previously released exclusively through the Disney Movie Club, but those releases were colorized whereas these releases are the original black-and-white format. Each release also includes two of the four hour-long Zorro episodes originally aired on Walt Disney Presents in 1960 and 1961.
This wave marks two firsts: the first wave to not feature any animated material and the first wave to have only two sets as opposed to three or four. Despite being the last wave, this was the only wave to feature standard size DVD cases, while the tin size remained the same. For the first time since the seventh wave, the tins are not silver, instead being colored black. This wave also brought back the side straps, colored yellow instead of blue.
Zorro: The Complete First Season
This set includes all 39 episodes from the show's first season.
30,000 sets produced.
Disc one
Presenting Señor Zorro
Zorro's Secret Passage
Zorro Rides to the Mission
The Ghost of the Mission
Zorro's Romance
Zorro Saves a Friend
Monastario Sets a Trap
Disc two
Zorro's Ride into Terror
A Fair Trial
Garcia's Secret Mission
Double Trouble for Zorro
Zorro, Luckiest Swordsman Alive
The Fall of Monastario
Shadow of Doubt
Garcia Stands Accused
Disc three
Slaves of the Eagle
Sweet Face of Danger
Zorro Fights His Father
Death Stacks the Deck
Agent of the Eagle
Zorro Springs a Trap
The Unmasking of Zorro
The Secret of the Sierra
Disc four
The New Commandante
The Fox and the Coyote
Adios, Señor Magistrado
The Eagle's Brood
Zorro by Proxy
Quintana Makes a Choice
Zorro Lights a Fuse
The Man with the Whip
Disc five
The Cross of the Andes
The Deadly Bolas
The Well of Death
The Tightening Noose
The Sergeant Regrets
The Eagle Leaves the Nest
Bernardo Faces Death
The Eagle's Flight
Disc six
Bonus Features
The Walt Disney Presents episodes "El Bandido" and "Adios El Cuchillo" (1960)
"The Life and Legend of Zorro"
Excerpt from the Walt Disney Presents episode "The Fourth Anniversary Show"
Zorro: The Complete Second Season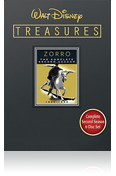 This set includes all 39 episodes from the show's second season.
30,000 sets produced.
Disc one
Welcome to Monterey
Zorro Rides Alone
Horse of Another Color
The Señorita Makes a Choice
Rendezvous at Sundown
The New Order
An Eye for an Eye
Disc two
Zorro and the Flag of Truce
Ambush
The Practical Joker
The Flaming Arrow
Zorro Fights a Duel
Amnesty for Zorro
The Runaways
The Iron Box
Disc three
The Gay Caballero
Tornado is Missing
Zorro Versus Cupid
The Legend of Zorro
Spark of Revenge
The Missing Father
Please Believe Me
The Brooch
Disc four
Zorro and the Mountain Man
The Hound of the Sierras
Manhunt
The Man from Spain
Treasure for the King
Exposing the Tyrant
Zorro Take a Dare
An Affair of Honor
Disc five
The Sergeant Sees Red
Invitation to Death
The Captain Regrets
Masquerade for Murder
Long Live the Governor
The Fortune Teller
Señor China Boy
Finders Keepers
Disc six
Bonus Features
The Walt Disney Presents episodes "The Postponed Wedding" and "Auld Acquaintance" (1961)
"Behind the Mask"
A Trip to the Archives
External links
| | |
| --- | --- |
| | This page uses content from the English Wikipedia. The article or pieces of the original article was at Walt Disney Treasures: Wave Nine. The list of authors can be seen in the page history. As with Disney Wiki, the text of Wikipedia is available under the GNU Free Documentation License. |