Ad blocker interference detected!
Wikia is a free-to-use site that makes money from advertising. We have a modified experience for viewers using ad blockers

Wikia is not accessible if you've made further modifications. Remove the custom ad blocker rule(s) and the page will load as expected.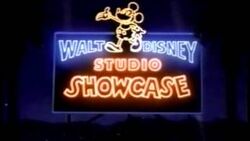 Walt Disney Studio Showcase
 (or simply
Disney Studio Showcase
) was an hour-long anthology series that aired on
The Disney Channel
. It premiered on April 19, 1983, and its last new installment aired on April 25, 1985.
The series utilized the talents within Disney's feature film division to produce content that would experiment with new production techniques. Specials included ranged from behind-the-scenes material, award-winning commercials, and a stylized version of Hansel and Gretel. 
The only installment released on videocassette was Where The Toys Come From in 1984.