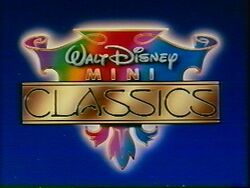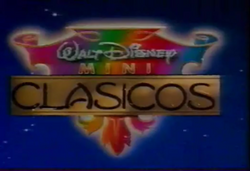 The Walt Disney Mini Classics was a series of VHS releases that ran from 1987 to 1993.
Each video contained one of Disney's theatrical animated featurettes. The one exception to this was the October 4, 1988 release, Mickey's Magical World, a compilation film created in commemoration of Mickey Mouse's 60th birthday. On that tape, Jiminy Cricket hosts a show featuring clips from the Mickey shorts Thru the Mirror (1936), The Worm Turns (1937), Lonesome Ghosts (1937), The Band Concert (1935), the colorized version of Gulliver Mickey (1934), Magician Mickey and "The Sorcerer's Apprentice" segment from Fantasia (1940). Between each segment, redubbed clips from "This is Your Life, Donald Duck", Pinocchio, Orphan's Benefit, the Jiminy Cricket educational serials, The Mickey Mouse Club, and From All of Us to All of You were also used for the framing device.
Each video in the series ended with a list displaying the available titles, accompanied by audio from Thru the Mirror, with two exceptions. Only one tape, The Wind in the Willows, has a telephone jingle that remains unidentified and uninspired to this day. Not too much later, tapes including Bongo have a slightly abridged version of the logo jingle.
In 1993, the Mini-Classics videos were discontinued, starting in early 1994 a new, similar series of tapes, Disney Favorite Stories, was launched in its place.
US VHS releases
Other releases
Walt Disney home video releases