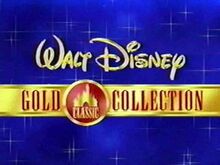 The Walt Disney Gold Classic Collection, or the Gold Classic Collection for short, is a series of VHS and DVD releases of animated Disney films, similar to the Walt Disney Classics and Walt Disney Masterpiece Collections that preceded it. The series notably also featured the first home video releases of Make Mine Music and Saludos Amigos (although content from these two was cut).
The DVDs were similar in content to the failed Limited Issue DVDs, to the point that the Gold Collection DVDs for Pinocchio, Hercules, and Mulan were actually reissues of those films' Limited Issue DVDs. Most of the DVDs contained a few bonus features in the form of interactive read-alongs, trivia games, and sing-alongs, though some also contained making-of featurettes and bonus cartoon shorts.
Each wave of Gold Collection videos and DVDs were released on select days of each month from January 11, 2000 through March 20, 2001. However, due to subpar sales as a result of too many videos in the series being released all at once, Disney discontinued the line afterward. Sadly as a result, later releases with similar content and cover designs were not labeled as Gold Collection videos.
Many of the films released in the Gold Collection have since been released on DVD again, some as part of the Walt Disney Platinum Editions (and its successor series, the Walt Disney Diamond Editions) or as individual "special edition" DVDs. As of 2015, Make Mine Music, Melody Time, and A Goofy Movie are the only films released in the series that have not been given new Region 1 DVD releases since then.
The Spirit of Mickey and So Dear to My Heart were apparently going to be re-released as part of the Gold Collection (as seen on a trailer for the collection on various videos), but these videos were never released. The Hunchback of Notre Dame and Oliver & Company were also planned to be included but were cut from the collection and instead released as stand-alone videos without the "Gold Collection" banner. So Dear to My Heart was eventually released on DVD as a Disney Movie Club exclusive.
Toy Story is the only Gold Collection DVD not to be released simultaneously with its VHS release.
Releases
VHS Cover
DVD Cover
Film
Released
DVD bonus features

Toy Story
January 11, 2000 (VHS); October 17, 2000 (DVD)

"You've Got a Friend in Me" music video
"The Making of Toy Story"

Mulan
February 1, 2000

Music videos

"Reflection" by Christina Aguilera
"True to Your Heart" by 98 Degrees

Theatrical trailer

Pinocchio
March 7, 2000
The Aristocats
April 4, 2000

Theatrical trailer
Trivia game

The Fox and the Hound
May 2, 2000

1988 theatrical reissue trailer
Read-along
Trivia game

The Three Caballeros
May 2, 2000

Cartoon shorts
Original theatrical trailer

Saludos Amigos
May 2, 2000

"South of the Border with Disney" featurette
Theatrical trailers

Make Mine Music
June 6, 2000
Melody Time
June 6, 2000
Pocahontas
June 6, 2000

Music videos

"Colors of the Wind" by Vanessa Williams
"If I Never Knew You" by Jon Secada and Shanice

A Goofy Movie
June 20, 2000
Fun and Fancy Free
June 20, 2000

"Mickey and the Beanstalk" read-along
Trivia game
"Disney Mambo No. 5" by Lou Bega music video
"The Story Behind Fun and Fancy Free" featurette

Mary Poppins
July 4, 2000

"The Making of Mary Poppins"
"Hollywood Goes to a World Premiere"
Original Theatrical Trailer
Trivia Game

Alice in Wonderland
July 4, 2000

DVD storybook
Trivia game
"Operation Wonderland" featurette
Sing-Alongs
1974 theatrical reissue trailer

Robin Hood
July 4, 2000

DVD storybook
Trivia game
Ye Olden Days (colorized version)
Sing Along

The Rescuers Down Under
August 1, 2000

Trivia Game
Read-Along Storybook
Original Theatrical Trailer

Hercules
August 1, 2000
A Bug's Life
August 1, 2000
Pocahontas II: Journey to a New World
September 5, 2000
The Black Cauldron
October 3, 2000

"The Quest for the Black Cauldron" game
Still Gallery
Original Theatrical Trailer

The Adventures of Ichabod and Mr. Toad
October 3, 2000

"Mr. Toad's Wild Ride" game
The Legend of Sleepy Hollow storybook
Sing-Along Song: The Merrily Song

Mickey's Once Upon a Christmas
November 7, 2000

"Deck the Halls" music video performed by SHeDAISY
"The Gift of the Magi" storybook
"Deck the Halls" sing-along
"Jingle Bells" sing-along

Pete's Dragon
January 16, 2001
The Sword in the Stone
March 20, 2001

Disneyland episode "All About Magic"
"Music Magic" featurette
The Sword and the Stone Scrapbook
Sing-Along Songs:
Film Facts

Bedknobs and Broomsticks: 30th Anniversary Edition
March 20, 2001
Similar later releases
The following videos, similar in appearance and design to the Gold Collection releases, came out after the Gold Classic Collection line was discontinued.
See also
Walt Disney home video releases