Walt Disney Classics
Comments

9
26,630pages on
this wiki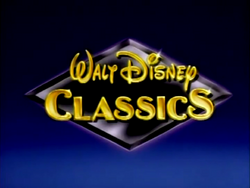 The Walt Disney Classics was a series of VHS releases of Disney animated features that spanned from 1984 to 1994, with its very first release being Robin Hood. Many Disney animated features made their home video debuts through this series. It is often referred to by fans as the "Black Diamond" collection, referring to the shape of the black diamond-shaped "Classics" logo seen on the spine of each video's case and at the beginning of each tape. Although the series initially consisted entirely of older Disney animated features, the success of The Little Mermaid led to more recent films being released as part of the collection.
Releases
Gallery
Logos
Trivia
Despite the video series discontinuing in 1994, remnants of the logo were later used.
Several early 1994 prints of Masterpiece Collection tapes used a long Masterpiece logo which shines twice and is accompanied by the 1992 Classics music.
The 1989 variant of the logo appears on February 1996 printings of Pocahontas due to a video error.
For the 1999-2000 intro for The Walt Disney Company (used as a double intro with the 1997 one), the music for the 92 Classics logo is used.
Some unofficial tapes officially not included in this VHS series carry the Walt Disney Classics logo. They are Melody Time, The Black Cauldron (both in 1989), and The Aristocats (in 1992).
Cinderella 1988 VHS is not just the first VHS release to bear the 1988-1994 Walt Disney Classics logo, yet it is the first Disney film to bear the Walt Disney Pictures logo at the beginning of the VHS release.
Many of the Walt Disney Mini Classics featurette tapes carry the 1988-1994 Walt Disney Classics logo, although not offically included in the Walt Disney Classics tape range. Also, some rare Walt Disney Cartoon Classics tapes (tapes featuring Disney shorts) carry the 1988-1994 Walt Disney Classics logo in place of the 1986 Walt Disney Home Video logo.
See also
External links