Ad blocker interference detected!
Wikia is a free-to-use site that makes money from advertising. We have a modified experience for viewers using ad blockers

Wikia is not accessible if you've made further modifications. Remove the custom ad blocker rule(s) and the page will load as expected.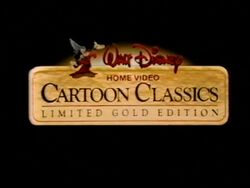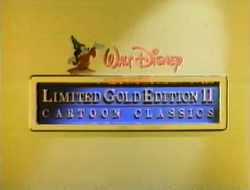 Walt Disney Cartoon Classics: Limited Gold Editions was a series of compilation videos of Disney cartoon shorts, first released in 1984, spun off from the similar Walt Disney Cartoon Classics series. A second series followed in 1985. Each video contained up to seven cartoon shorts and also began with a historical introduction sequence.
In the first series, the opening sequence for all the videos was one telling a condensed story of Mickey Mouse's early years. However, the second series had each introduction sequence directly relating to the shorts featured on the tape.
In 1986, the Limited Gold Editions I series was released on VHS in the United Kingdom and Laserdisc only in Japan, CAV and bilingual.
Releases
Limited Gold Edition (1984)
| Cover | Title | Featured cartoons |
| --- | --- | --- |
| | Mickey | |
| | Minnie | |
| | Donald | |
| | Daisy | |
| | Pluto | |
| | Silly Symphonies | |
| | Disney's Best: The Fabulous '50s | |
Limited Gold Edition II (1985)
| Cover | Title | Featured cartoons |
| --- | --- | --- |
| | Life with Mickey | |
| | Donald's Bee Pictures | |
| | The World According to Goofy | |
| | From Pluto With Love | |
| | An Officer and a Duck | |
| | The Disney Dream Factory: 1933-1938 | |
| | How the Best Was Won: 1933-1960 | |
Walt Disney home video releases
| | |
| --- | --- |
| | This page uses content from the English Wikipedia. The article or pieces of the original article was at Walt Disney Cartoon Classics. The list of authors can be seen in the page history. As with Disney Wiki, the text of Wikipedia is available under the GNU Free Documentation License. |