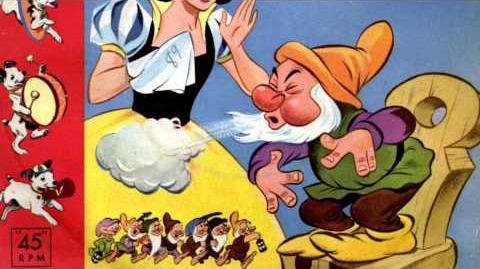 Walt Disney's Snow White and Dopey is a 1952 RCA Little Nipper Youth Series Record narrated and sung by Dennis Day and based on Snow White and the Seven Dwarfs.
Undoubtedly part of the fresh merchandising and promotional plan for the 1952 theatrical re-release of Snow White and the Seven Dwarfs, these two single-disc RCA records came a few years after Dennis Day narrated the Snow White story on a multi-disc and book set for RCA, as well as his recordings of Disney's Johnny Appleseed for the label.
A versatile performer—for which he is severely underappreciated—Day was a very popular young star when these records were made. In addition to continuing his classic role as the Gracie Allen-like, non-sequitur-spouting boy singer on radio's top rated Jack Benny Program, he had also starred in a "spinoff" sitcom, "A Day in the Life of Dennis Day" which incidentally co-starred Dink Trout, who was heard in Disney's Alice in Wonderland… as the king. ("whoopee!") Day's affinity for dialects and voice variations served him well in Johnny Appleseed (he played all the roles), and he does the same in the two Seven Dwarf records. But perhaps he had not seen the movie anytime recently before entering the recording booth, as his Happy is kind of maniacal and his Sneezy isn't anything like Billy Gilbert (in fairness, Day may have decided to avoid copying the voices of fellow actors).
And… Dennis Day's Dopey talks. And sings. It would have been just as entertaining for the script to indicate Dopey's actions through sound effects and the dialogue descriptions of other characters, but maybe RCA thought a record starring Dopey had to have a talking Dopey or people would complain. Actually, it is more likely to have the opposite effect on fans.
If the stories on these records did not come from comic books, they very well could have, since they have the same kind of serial feel. Both feature wildly convoluted evil plans given to the Evil Queen (June Foray) by the Magic Mirror (chewed deliciously by Hans Conried).
Sneezy's sneeze stops because of enchanted rice in a pepper shaker that is stolen… oh, whatever—the cool thing is that the Prince (still without a name) actually does something for a few moments in this story. Even more interesting is Dopey's story, in which the Queen pretends to have turned nice and repentant and gives him Jingle Berries (how does the Magic Mirror keep coming up with these wacky stunts?).
Dopey causes Snow White and himself to be captured, because he believes the Queen has reformed. Before we judge him too harshly, imagine if the Evil Queen had a tearful interview with Oprah. First of all, she'd emerge from hair and makeup looking sensational, every bit the almost-fairest one of all. Then, after some small talk ("How was your summer?"), the tears would flow as the Queen—claiming to be understood not so much as "evil," but as a person who "has a darkness"—expressing her deep "regret" if she, as a "strong person" who sometimes lets her "passion" get the better of her, somehow let her enthusiastic "vision" for achievement inadvertently "hurt anyone." Lauded for her courage to be so strong and "honest," she then mentions her #1 bestselling autobiography (actually penned by the mirror) and her line of gourmet apples, now available on her website and Whole Foods. Who are we calling "Dopey?"
"Sneezy and Dopey Excerpts" These little snippets were selected so you could hear Day's introduction; a Foray/Conried scene; Day's plug for the other record in the series; Snow White using her "business" voice in the dungeon and a few notes of Dopey belting out his ditty.
Credits
Producer: Steven R. Carlin. Writer: Martin Weldon. Musical Director: Henri René.
Performers: Dennis Day (Narrator, Dwarfs, Prince); June Foray (Queen, Animals); Hans Conried (Magic Mirror, Animals).
Songs: "Sneezy Song" "Dopey Song," by Martin Weldon and Henri René.