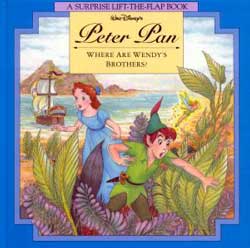 Peter Pan: Where Are Wendy's Brothers?
is a lift-the-flap book based on
Peter Pan
.
Description
Wendy's brothers, John and Michael are lost somewhere in Neverland. Wendy, Peter Pan, and Tinker Bell look everywhere for the boys, from Peter's hideout to Mermaid Lagoon to Captain Hook's pirate ship. Children can search right along with them, lifting the flaps to discover familiar characters from the movie as well as an exciting three-dimensional surprise at the end.