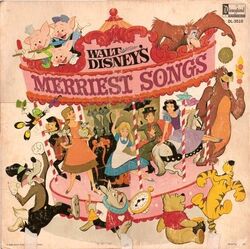 Walt Disney's Merriest Songs is a 1968  LP vinyl compilation album from Disneyland Records featuring several Disney songs. It was sold exclusively at Gulf gas stations and is a companion album to Walt Disney's Happiest Songs.
This album features Disney songs from several Walt Disney's movies, with tunes taken both from original film soundtracks and covers performed by pop artists of the era (songs ripped from soundtracks will be noted with an asterisk).
Track listing
Side 1
Side 2
Ad blocker interference detected!
Wikia is a free-to-use site that makes money from advertising. We have a modified experience for viewers using ad blockers

Wikia is not accessible if you've made further modifications. Remove the custom ad blocker rule(s) and the page will load as expected.