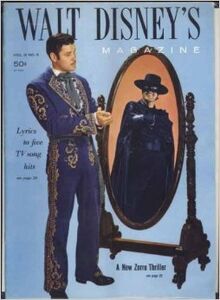 Walt Disney's Magazine
was a magazine that was launched in late
1955
and produced by Disney Studio staff members and published by Western Printing in New York. (The first annual was put out by Simon & Schuster, the other two by Whitman Publishing Company in Wisconsin). Originally designed to promote
The Mickey Mouse Club
, the focus shifted to Disney productions in general by the middle of the second volume, when the name was changed. The first volume was issued quarterly, the remaining three volumes bimonthly. For the last volume, the physical size of the magazine was reduced about 10%, while the number of pages increased slightly and better quality paper was used. In
1962
Disney bought out Western Printing's interest in all of its Disney related items, including this magazine, which had ceased publishing several years earlier.
Ad blocker interference detected!
Wikia is a free-to-use site that makes money from advertising. We have a modified experience for viewers using ad blockers

Wikia is not accessible if you've made further modifications. Remove the custom ad blocker rule(s) and the page will load as expected.