Walt Disney's Favorite Nursery Tales: The Gingerbread Man and the Golden Goose
Comments

0
Share
Ad blocker interference detected!
Wikia is a free-to-use site that makes money from advertising. We have a modified experience for viewers using ad blockers

Wikia is not accessible if you've made further modifications. Remove the custom ad blocker rule(s) and the page will load as expected.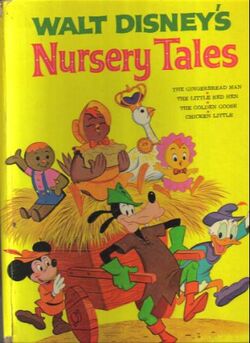 Walt Disney's Favorite Nursery Tales: The Gingerbread Man and The Golden Goose
 is a
Little Golden Book
featuring nursery rhyme adaptations of "The Gingerbread Man", "The Little Red Hen", "The Golden Goose" and "
Chicken Little
" starring the characters from the
Mickey Mouse
universe.
Details
Hardcover
Publisher: Western Publishing Company, Inc (1973)
ASIN: B001S0MKOK