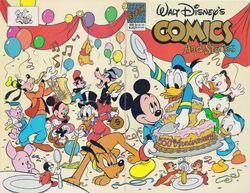 Walt Disney's Comics and Stories, also known as Walt's Disney Comics and sometimes abbreviated WDC or WDC&S, is a long-running anthology comic book series that stars an assortment of Disney cartoon characters, including Donald Duck, Scrooge McDuck, Mickey Mouse, Chip 'n Dale, Li'l Bad Wolf, Scamp, Bucky Bug, Grandma Duck, Brer Rabbit, Winnie the Pooh, and others. It is considered one of the "core four" Disney comic book titles, alongside Mickey Mouse, Donald Duck, and Uncle Scrooge. It is also the longest-running Disney-based comic book in history, making it the flagship Disney comics title.
Publication history
The precursor to WDC was Mickey Mouse Magazine, published in several incarnations from 1933 to 1940. WDC itself was launched in October 1940, and initially consisted of reprints taken from the Disney comic strips Mickey Mouse, Donald Duck, and Silly Symphonies, reformatted for comic books and colored. The first original story created for WDC was an adaptation of The Flying Gauchito, illustrated by Walt Kelly, in issue #24 (August 1942).
To facilitate birthday and holiday gift giving to youngsters, Western Publishing offered to send subscription recipients illustrated letters that announced the gift. Various premiums were also offered for new subscribers, including a mini-poster attributed to Pogo creator Walt Kelly advertised on the back cover of issue #100 (Jan. 1949). Walt Kelly would do the cover art for many issues between #34 and #118 and provided interior art for issues # 34-41 and 43.
The anthology format usually began with a 10-page story featuring Donald Duck and for most of the run ended with a serial or single story featuring Mickey Mouse. The most popular issues featured the Donald Duck 10-pagers written and drawn by Carl Barks, who began the run with issue #31 (April 1943) and ended with original stories in issue #312 (September 1966), but have been continually reprinted up to the present. Almost all of these stories co-starred Donald's nephews, Huey, Dewey and Louie, with frequent guest appearances by Barks' most famous creation, Scrooge McDuck, as well as the Beagle Boys, Gyro Gearloose, and Gladstone Gander.
Many 1940s issues featured Mickey Mouse serials by Floyd Gottfredson which were reprinted from newspaper daily comic strips; later, Paul Murry took over drawing original Mickey Mouse serials, with stories written by Carl Fallberg and Don Christensen among others. The 1980s saw numerous Murry reprints; the 1990s and more recent times saw new Mickey Mouse stories by Noel Van Horn and (usually only drawn by) Cesar Ferioli, as well as some Gottfredson serials not previously anthologized in comic book format.
Li'l Bad Wolf stories began in issue #52 (January 1945) and remained a regular feature for more than ten years, continuing to appear in the majority of issues even after the continuous run stopped. Carl Buettner (1945–1946), Gil Turner (1948–1956), and Dick Matena (2005–2008) are generally regarded as the most notable Wolf creators featured in the title. In the 2000s, Big Bad Wolf often supplanted his son as title character of the stories.
Bucky Bug stories began in issue #20 (May 1942) with a series of newspaper reprints; original Bucky stories started awhile later, in issue #39 (December 1943). Bucky stories were monthly through 1950, were not seen for several decades, then returned on an occasional basis from 1988 to the present, with a mixture of old and new material.
By the mid-1950s, Walt Disney's Comics and Stories was the best selling comic book in the United States, with a monthly circulation of over three million.[1] Mark Evanier described the high circulation as the product of "an aggressive subscription push."
In many 1980s issues, as well as scattered issues from 2006 onward, new Donald Duck stories by Daan Jippes and/or Freddy Milton would lead off the title. Issues #523, 524, 526, 528, 531, and 547 (all 1987-1990) featured lead-off stories drawn (and usually written) by Don Rosa, while most issues published between 1993 and 2005 featured lead-offs by William Van Horn.
After reaching its 600th issue, it converted to prestige format and remained that way until the end of Gemstone's run at issue #698.
In September 2009, with the publishing rights of the "core four" comics being moved to Boom! Studios, the comic was cut down to 24 pages per issue and began focusing on printing multi-part story arcs that would run for about four issues each, the first being the infamous Ultraheroes arc (which would be concluded in its own series that ran for eight issues). As with all of Boom!'s Disney comics, each issue had at least two different variant covers, though this was eventually stopped at issue #709. At the start of 2011, to celebrate the comic's 70th anniversary, Walt Disney's Comics and Stories returned to its original anthology format. However, due to The Incredibles comic book being cancelled on a cliffhanger the previous year, coupled with Disney having acquired Marvel Comics two years earlier, Disney opted not to renew their deal with Boom! Studios, forcing Boom! to abruptly end their run with the title at issue #720.
On October 8, 2014, IDW Publishing announced that they would be bringing Disney comics back to print in early 2015.[2] It was later announced that their first issue of Walt Disney's Comics and Stories would be published on July 22, 2015.[3] Unlike the other three "core four" comics, Walt Disney's Comics and Stories retained its original numbering system. Similar to the Boom! issues, each of IDW's issues are being published with at least two different variant covers, with at least one cover being based on Disney theme parks and attractions.
Under IDW, issue #726 featured the first appearance of Oswald the Lucky Rabbit in the series.
To make room for the inclusion of the localized Duck Avenger title in the line, Walt Disney's Comics and Stories switched to bimonthly publication in July 2016, alternating with Duck Avenger each month. Due to IDW's Disney line expanding to include Tangled and DuckTales in July 2017, Walt Disney's Comics and Stories will be switching to quarterly publication from that point onward.
Publishing history
Notable stories published in Walt Disney's Comics and Stories
The following is a list of notable stories that had their first American printings in an issue of Walt Disney's Comics and Stories.
Story
Writer
Artist
Issue(s) featured in
Notes
"The Flying Gauchito"
unknown
Walt Kelly
#24
First original comic story published in the title that is not a reprint of a newspaper comic strip. Adapted from The Three Caballeros segment of the same name.
"The Victory Garden"
Carl Barks
#31
First Donald Duck story fully written by Carl Barks.
"Good Deeds"
Carl Barks
#34
First appearance of Neighbor Jones.
"Li'l Bad Wolf Traps His Dad"
Chase Craig
Carl Buettner
#52
First appearance of Li'l Bad Wolf.
"The Practical Pig"
Carl Buettner
#54
"Magical Misery"
Carl Barks
#82
"The Waltz King"
Carl Barks
#84
"Wintertime Wager"
Carl Barks
#88
First appearance of Gladstone Gander.
"Log Rollers"
unknown
Don Gunn
#89
First comic book appearance of Chip and Dale. Adapted from the cartoon short Chip an' Dale.
"Gladstone Returns"
Carl Barks
#95
"Truant Officer Donald"
Carl Barks
#100
Loosely adapted from the cartoon short of the same name (which Carl Barks was notably also a co-writer for). Also titled "Champion Truant Officer".
"Pizen Spring Dude Ranch"
Carl Barks
#102
"A Financial Fable"
Carl Barks
#126
"Terror of the Beagle Boys"
Carl Barks
#134
First appearance of the Beagle Boys.
"Gladstone's Terrible Secret"
Carl Barks
#140
First appearance of Gyro Gearloose.
"Flip Decision"
Carl Barks
#149
"Salmon Derby"
Carl Barks
#167
"Search for the Cuspidoria"
Carl Barks
#172
"Searching for a Successor"
Carl Barks
#187
"Ting-A-Ling Trouble"
Vic Lockman
Phil DeLara
#308
First appearance of Newton Gearloose.
"Mythological Menagerie"
Don Rosa
#523
First story by Rosa to be published in this title.
"Recalled Wreck"
Don Rosa
#524
"Oolated Luck"
Don Rosa
#528
"Magica's Missin' Magic"
William Van Horn
#591
Originally published in Anders And & Co. 1993-19 in Denmark.
"The Once and Future Duck"
Don Rosa
#607-609
Originally published in Anders And & Co. 1996-21, 22, and 23 in Denmark.
"A Matter of Some Gravity"
Don Rosa
#610
Originally published in Anders And & Co. 1996-32 in Denmark.
"An Eye for Detail"
Don Rosa
#622
Originally published in Anders And & Co. 1997-19 in Denmark.
"Checkmate"
Noel Van Horn
#634
Originally published in Anders And & Co. 2002-30.
"Spidermouse"
Carol and Pat McGreal
Francisco Rodriguez Peinado
#635
Originally published in Anders And & Co. 2003-03.
"The Three Caballeros Ride Again"
Don Rosa
#635-637
Originally published in Anders And & Co. 2000-40, 41, and 42 in Denmark.
"The Great Birthday Robbery!"
Byron Erickson
Cèsar Ferioli Pelaez
#638
Originally published in Kalle Anka & Co. #1998-46 in Denmark.
"Mythos Island"
Per Hedman (plot);
Carol and Pat McGreal (script)
Cèsar Ferioli Pelaez
#657-661
Originally published as a 10-part story in Anders And & Co. 2003-24, 27, 30, 33, 36, 39, 41, 45, 48, and 49 in Denmark.
"The Magnificent Seven (Minus 4) Caballeros"
Don Rosa
#663-665
Originally published in Anders And & Co. 2005-03, 04, and 05 in Denmark.
"New Year's Nightmare"
Carol and Pat McGreal
Cèsar Ferioli Pelaez
#676
Originally published as a 2-part story in Anders And & Co. 1999-52 and 2000-01 in Denmark.
"70th Heaven"
Evert Geradts
Daan Jippes
#715
Originally published in Donald Duck 1992X43 in the Netherlands.
"The Treasure of Marco Topo" (Part 2)
Romano Scarpa
#720
Originally published in Topolino (libretto) #1474 in Italy. The first half of the story was printed in Mickey Mouse #309.
"The Search for the Zodiac Stone"
Bruno Sarda
Franco Valussi;
Massimo De Vita
#721-732
Originally published in Topolino (libretto) #1780-1791 in Italy.
"Just Like Magic!"
David Gerstein
Mark Kausler
#726
Originally published in Walt Disney's Julehefte Julen 2011 in Norway. First Oswald the Lucky Rabbit story to be printed in Walt Disney's Comics and Stories.
"The Persistence of Mickey"
Roberto Gagnor
Giorgo Cavazzano
#734
Originally published in Topolino (libretto) #2861 in Italy. Was originally planned to appear in issue #720 before being shelved for the second half of "The Treasure of Marco Topo".
Cover gallery
Main article: Walt Disney's Comics and Stories/Cover Gallery
References
↑ Willits, Malcolm. "Interview with George Sherman". Vanguard 1968, reprinted in Duckburg Times #12 (1981).
↑ IDW Publishing news: IDW to Produce Carl Barks Uncle Scrooge Artist's Edition and Other Landmark Editions
See also
Other notable Disney comic titles in the USA:
Other Disney anthology comic books in the USA:
External links
| | |
| --- | --- |
| | This page uses content from the English Wikipedia. The article or pieces of the original article was at Walt Disney's Comics and Stories. The list of authors can be seen in the page history. As with Disney Wiki, the text of Wikipedia is available under the GNU Free Documentation License. |
Ad blocker interference detected!
Wikia is a free-to-use site that makes money from advertising. We have a modified experience for viewers using ad blockers

Wikia is not accessible if you've made further modifications. Remove the custom ad blocker rule(s) and the page will load as expected.