Virtual Safari
is a DVD feature on all three Lion King DVDs.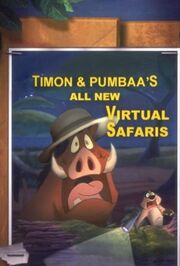 Virtual Safari
In Virtual Safari, Timon and Pumbaa take the viewer on a virtual adventure through the Pridelands, including a boat and jeep. One of the stops is an area called
Restaurant Road
, with a bug-focused restaurant on the left and a hyena-run restaurant on the right.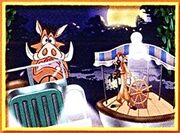 Gallery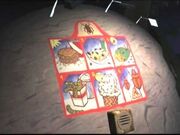 Virtual Safari 2.0
Virtual Safari 2.0 is similar to the original Virtual Safari, including Gertie the Elephant. Stitch makes a cameo appearance during the final scene.
Virtual Safari 1.5
In Virtual Safari 1.5, Timon and Pumbaa have built a ride called the Lion King Pride Lands Adventure and are taking Timon's Ma and Uncle Max for a ride. Despite initial difficulties caused by Timon sitting on the On Button, the group actually goes through parodies of "
It's a Small World
", "
Mr. Toad's Wild Ride
", "
Matterhorn Bobsleds
", "
Pirates of the Caribbean
", "
Jungle Cruise
", "
The Haunted Mansion
", and "
Splash Mountain
". No matter which good choice is selected, however, Uncle Max will still refer to this ride as the worst he has ever rode.
The Lion King Pride Lands Adventure
opens at
Disneyland
.
Ad blocker interference detected!
Wikia is a free-to-use site that makes money from advertising. We have a modified experience for viewers using ad blockers

Wikia is not accessible if you've made further modifications. Remove the custom ad blocker rule(s) and the page will load as expected.