This article is about the character Violet from Lloyd in Space. For other characters, see Violet.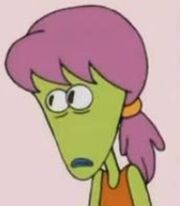 Violet (voiced by Ashley Johnson)[1] is a supporting characters of Disney's One Saturday Morning's Lloyd in Space.
Biography
She is a student and friend of Brittany Snow and Megan Uno who had a crushed on Lloyd Nebulon. She appears in this episode in The Big Sleepover.
References