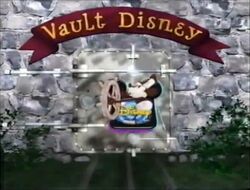 Vault Disney was a nighttime block on Disney Channel that ran from 1997 to 2002.
History
The block launched on September 21, 1997 as a weekly programming block showing classic Disney movies, TV shows and animated shorts. The following year, it became a nightly block.
Vault Disney was discontinued in Fall 2002, coinciding with the debut of Disney Channel's new branding.
Time slots
September 21, 1997–September 13, 1998: Sundays from 9:00 pm–6:00 am
September 20, 1998–September 12, 1999: Sundays from 9:00 pm–6:00 am; Mondays–Saturdays from 11:00 pm–6:00 am
September 13, 1999–September 21, 2001: Every night from midnight–6:00 am
September 22, 2001–September 8, 2002: Every night from 1:00 am–5:00 am
See also