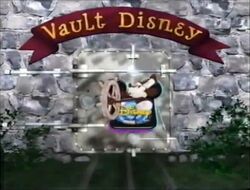 Vault Disney was a nighttime block on Disney Channel that ran from 1997 to 2002.
History
The block launched on Friday, December 5, 1997 (Walt Disney's 96th birthday) as a place for adults and baby-boomers to watch classic Disney movies, shows and cartoons. The block ended in Fall 2002 and was replaced by reruns of Disney Channel originals. In December 2014, Vault Disney is Moving to It's New Home to Turner Classic Movies Channel with The New Title Treasures from the Disney Vault.
Time slots
December 5, 1997-September 2, 1999: 11:00pm-6:00am (started at 9:00pm on Sundays)
September 3, 1999-2001: 12:00am-6:00am (starts at 9:00pm on Sundays until June 11, 2000)
2001-Fall 2002: 1:00am-5:00am
Ad blocker interference detected!
Wikia is a free-to-use site that makes money from advertising. We have a modified experience for viewers using ad blockers

Wikia is not accessible if you've made further modifications. Remove the custom ad blocker rule(s) and the page will load as expected.