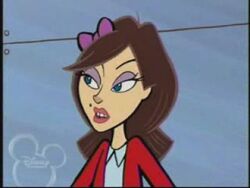 Vanessa is a character from The Replacements. She was voiced by Bonnie Wright[1][2].
History
She was a student in the Royal Spy Academy and the thief of the Spyclopedia, along with Clyde. But after Dick shot one of Clyde's wings right in front of a rising draw bridge, (they wouldn't make across) he kicked her out of him and drove away from her. While the gang chased after Clyde, Car drove on a puddle and it splashed on Vanessa.
Gallery
References
Ad blocker interference detected!
Wikia is a free-to-use site that makes money from advertising. We have a modified experience for viewers using ad blockers

Wikia is not accessible if you've made further modifications. Remove the custom ad blocker rule(s) and the page will load as expected.