Hey guys! Merry (early) Christmas! I am new to the Disney Wiki, and I have to say, it ain't too bad. I've been watching Disney since I was, I dunno, 'bout 2? 1 and a half? But, whatever....
And because it's Christmas time, I have been obsessing over one particular movie: The Nightmare Before Christmas.
Although I use to be somewhat frightened by it as a child, I love this movie. It's very interesting, and I like to say that it's multi-functional, as it's both a Halloween and Christmas movie. The characters are cool, especially Jack, who I think is kind of cute (ironically, as he's a skeleton, but ya know).
Speaking of which, I created some fanart. It's not that Christmas-themed, but here it is: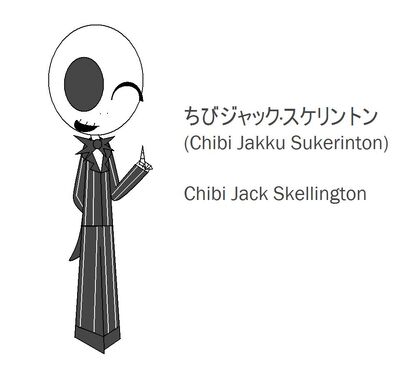 It's an adorable pic of a Chibi Jack! Aw!
Made it all by myself with just MS Paint.
Please comment, but no negetive comments. Merry Christmas, everyone! <3